To create an outdoor living space which provides an area for entertaining or just relaxing and enjoying the scenery. We have created many gardens from seaside properties along the South Shore to City Gardens in Beacon Hill, Brookline and Cambridge.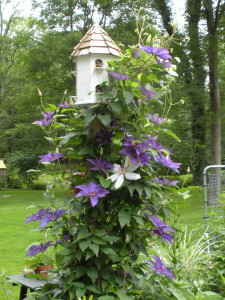 Garden Styles:
cottage garden
english garden
woodland garden
rock garden
vegetable garden
container gardens
patios, stone walls, garden structures
Holiday/Seasonal decorating
Healing Gardens – This is a done for cancer patients who are currently undergoing treatments or have completed treatments but are unable to garden themselves. We come in with many volunteers and donated items from local nurseries and help transform these gardens for the patient just to sit and relax in the garden.
Choosing Plant Materials:Choosing drought resistant plants for conserving water, choosing native plants and easier to maintain.
Choosing plant materials that accent the clients home, attracts butterflies and hummingbirds are factors when heading to the Nurseries.
Soil Preparation: It's all about the manure!
A good compost base that makes up 20-50% of the soil. Amending your soil is the first step to having a beautiful and successful garden.
Composting: Balance of green plant materials, brown leaves to start. Add vegetable and kitchen cuttings or scraps, layer and mix. Mixing,with a shovel or pitchfork adds air and helps with the decaying process. Add water and chicken manure!
Fertilizer: Regular fertilizing programs include Neptune's Harvest Fish Fertilizer(made in Gloucester, MA) for your vegetables and flowers. Composted manure, granulated fertilizers for flowers and shrubs such as Hollytone Fertilizer.
Mulching: Always mulch your flower beds and vegetable gardens. It not only helps retain the moisture after watering but helps keeps the weeds under control. Only spread a 1/2″-1″ covering around plants. NEVER bring mulch right up against the plant materials, leave a border around the plant, tree or shrub. I recommend Buckwheat Hull Mulch, which is an organic mulch and can be bought by the bag. Pine Bark mulches are also fine, but make sure you buy from a reputable source and again spread thinly around the garden, you don't want giant mounds around the plants and trees.
Saltmarsh Hay-a must have for the vegetable garden. Not only does it keep the weeds down, retain the moisture for the plants, you can compost it right into the garden at the end of the season.