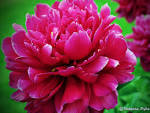 Who doesn't love peonies? I don't think I know of anyone, and I am sure if I met them I could quickly change their mind. And wouldn't you love to have an entire area in your yard designated just to peonies? Wouldn't that be lovely, the only drawback, they are short lived. I have been growing peonies for years and every time I come across a new one, I find room in my garden to plant it. My grandmother loved Peonies, and I actually have one from her yard that still blooms for me in my yard, which brings an enormous smile to my face every year it blooms. Peonies take time to become established. There are so many different peonies that you can grow in your garden. There are Herbaceous Peonies and Tree peonies, I recommend both for your gardens. Herbaceous peonies are a perennial bush that die back to the ground in the winter and have over 6000 varieties registered. Tree peonies are native to China and Japan, there are also some American varieties too.  There are over 1000 varieties registered for tree peonies. Local garden centers and nurseries will carry many different varieties of peonies available to you in the spring, but my advice is if you are looking for that special peony, because you have about 30 already, but want that new one you have your eye on, go to Peonysenvy.com. Kathleen Gagan is the owner and is an expert in growing Peonies. Worth going to her website and looking at all the different varieties, once on the website you will find yourself ordering multiple peonies for your gardens.
When planting peonies there are a couple of important factors you need to know:
1. Sunlight: If your plant lacks sunlight it will not bloom, will wilt and be susceptible to disease.
2. Planting Peonies: With herbaceous peonies you want to make sure you plant the crown of the eyes .5-1.5 inches below the surface of the soil. Peonies like the PH in the soil to be 6.5-7. You need to remember when mulching your gardens, not to bury that peony or it will not bloom. Often times with older peonies, you will get healthy green leaves but no flowers, it's planted too deep. Raise it up in the same area, remember that peonies have more of a tuber root system and you need to dig a large circumference around the plant. Tree Peonies have a grafted root system and need to be planted deeper than the graft. You do not want to prune tree peonies, they bloom on dead wood. If you want to control the size of the plant then prune when blooming. Newly planted peonies sometimes will not bloom the first or even second year after being planted, be patient, it's worth the wait.
3. Fertilizer: Of course compost is best for your peonies. You can use a mushroom compost early in the spring. When the leaves begin emerging, I use Neptune's Harvest fish and seaweed emulsion.
4. Disease problems: Powdery Mildew. I get this every year on a few of my peonies, and it is my own fault. Often times it is because plants are so crowded and not getting the correct air circulation-bingo my issue. The leaves turn white and powdery, fortunately for me it happens after they bloom. It can also happen when we have extremely hot and humid days, and cool nights. Once the plant is infected there is no way to treat it, just cut it back to the ground. Ways to prevent mildew are do not plant so close together and spray Neem oil once the leaves have formed. Botrytis is a terrible disease that I have also had with my peonies. Your stalks will wilt and die and the buds turn black, its very disheartening. Often times when in the early spring if we have temperatures below 70, and the plant remains wet and humid this will happen. If you see this you want to cut off the diseased potion of the plant. You will want to clean off your pruners in 10% bleach afterwards so not to spread the disease. Throw away your diseased portion and definitely do not throw it into your compost.
5. Ants: Do not try to get rid of the ants on your peonies. This is a natural and temporary activity. It is believed that peonies produce small amounts of nectar and other ant attractants to encourage ants to help in opening the dense double flower buds found in many peonies. The ants may be found covering certain varieties and avoiding others, this is totally normal.
Once the buds have opened the ants will disappear – also normal.
Some people think ants are REQUIRED to open the flowers, but this does not to appear to be true. After cutting your peonies to bring inside, give them a good shake and let the ants fall off, sometimes you may find a couple scrambling around your countertops after putting them in a vase.
Cutting Peonies: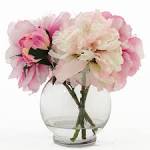 The smell of peonies in your home is just beautiful, I find I can't keep my nose out of them! Short lived, I know, BUT you can store them in your fridge for up to 6 months. Cut peonies when flower buds are tight, wrap them in a cellophane collar to protect from the frost in your fridge and set the stems in water. You can also wrap them dry in newspaper, wrap tightly and when ready to put on your table, take them out and put them in water and they will open for you.