"Garden as though you will live forever"-William Kent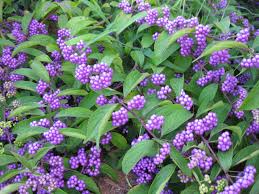 This is the way I live each and every day, because we all know that every day is a gift. And what is better than giving yourself constant gifts in the garden. Now, if you ask my husband he will tell you I don't possibly need one more item for my gardens, but it is not about the need it's the want. We gardeners are constantly learning about new plant materials, whether it is all the wonderful magazines we read, the lectures we attend or even popping by a friends garden. The other night I attended a lecture and this gorgeous Japanese Beautyberry was one of the shrubs they talked about. I have planted many of these for clients and friends, but then sat there saying to myself-"why don't I have this in my garden?" My quick answer to myself-"first thing I will get in the spring!" This is "Early Amethyst"the primary ornamental feature is the spectacular display of the lilac-violet fruit in the fall.The prefer full to partial sun. The leaves are also striking and add interest in any garden. This is a great time to think about your gardens, hopefully you made some notes and you can immerse yourself in how you will add to your gardens as soon as the ground thaws.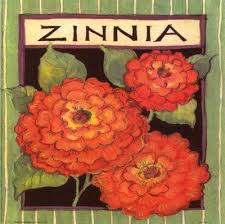 Seed Catalogs- I love when they fill up my table. I sit and look at them for hours, check off multiple pages then go back and realize I don't have the space for all I want to order.But there are always the favorites like Zinnias-such a happy flower! If you are new to growing plants from seed, keep it simple. Because each plant has different seed starting requirements, I suggest trying a few of the same varieties to start indoors. Try tomatoes, basil, marigolds, cosmos, nasturtiums and of course Zinnias.
Full Wolf Moon/Full Old Moon- This month we have 2 full moons, we had the first one on New Year's Day, and the second which is on January 31st. A blue moon is the second full moon that occurs in a month, this year we have 2 blue moons, January and March, none in February-but just a fun fact.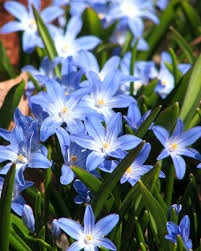 Early Bloomers- One of the early bloomers that flower in early spring are glory of the snow and spring snowflake. Glory of the snow can sometimes be seen poking through the melting snow. It is deer resistant and offers a beautiful lilac color blossom which after a long winter is a welcoming sight. Spring snowflake is a beautiful white bell shape flower that multiplies and is a great choice for pond side plantings.

Lastly, with all the snow we received from Mother Nature earlier this month, embrace it. With the frigid temperatures that followed and high winds, if we didn't have the snow to act as an insulator, many of our evergreens would suffer from winter burn or wind damage. I know with this wonderful thaw we have going on you may be tempted to go out and brush off your plants or shrubs, don't. Plain and simple. You may damage the plant worse than the snow. Don't worry they are hardy and will bounce back, may need a little trimming, but trust me stay indoors and focus on what you will be planting in garden for the spring!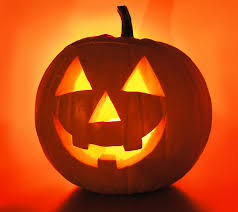 "There is magic in the night when pumpkins glow by moonlight"
Carving pumpkins into jack-o'-lanterns is a popular Halloween tradition that originated hundreds of years ago in Ireland. Back then, however, jack-o'-lanterns were made out of turnips or potatoes; it wasn't until Irish immigrants arrived in America and discovered the pumpkin that a new Halloween ritual was born. Who doesn't love Halloween? It's so much more than Jack-o-lanterns, fun and scary costumes and of course candy corn! It's such a beautiful time of year, especially for gardeners! You are busy in the garden harvesting all the remaining tomatoes, kale, squash, herbs, preparing the gardens for the fall, planting you garlic. This year has been especially great because our gardens(for the most part) are still blooming. With the extended warm temperatures, we have our roses continuously blooming, the hydrangea blooms are spectacular, and our lawns are still green. Also, great time to get out there and divide and transplant. Remember when cleaning your beds to keep a layer of leaves around the plants, it may look messy but your plants will benefit from it when Old Man Winter arrives. Especially if we have a cold snap and there isn't any snow on the ground, which acts as an insulator for the plants.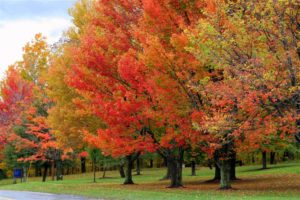 And living in New England we get a bonus of a beautiful display of color, I find myself daydreaming while driving on rte. 128.
Bulbs-Who does't love a gorgeous garden of spring flowering bulbs? There are so many different varieties to choose from, it is Endless. Tulips and Daffodils are my favorites, it's a flower that is welcoming us to springtime! When you select your tulips for the garden, select the biggest bulbs you can as they are older and more mature for bigger flowers, longer blooming flowers, and longer lasting plant in your garden.
Always plant in groups and never in straight lines as it will be easier to plant annuals around them as the daffodil and tulip foliage begins to fade. Remove the foliage to the ground ONLY when the foliage begins to turn yellow! Plant bulbs with a covering of conditioned soil that covers the bulb with twice as much soil as the bulb is high. Again, rake the bark mulch over them and keep the layer of leaves over them for added protection for winter. I always add a box of moth balls to the area too, helps keep those pesky critters away. Unfortunately, it doesn't seem to deter the deer. I have found myself planting more daffodils since the deer don't find them as tasty.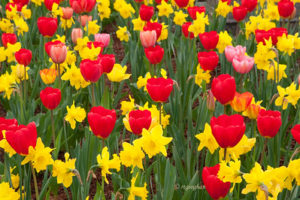 Winter flowering bulbs- Never too early to start thinking of flowers for the holidays, I know we don't want to think about that yet, but we gardeners need to have something in bloom all year round, whether it is inside or outside. There are many types of Amaryllis bulbs and Paperwhite Narcissus bulbs that can be forced to bloom around the holidays. You an mail order them from different gardening catalogs or websites or local nurseries will have them closer to the holidays OR you can go to Home Depot or Lowes and get these bulbs for under $10 dollars, they come in kits. I recommend taking them out of the plastic pots(when the grow they tend to get top heavy and the plastic pot can't weight it down)plant them in a festive container, rustic terracotta pot, or even multiple in a container, place in a sunny window and water once a week.
Lastly, I hope everyone has a wonderful Halloween, and once you carve that jack-o-lantern, put a teaspoon of pumpkin spice in it before lighting it and enjoy the lovely scent on your doorstep.
Pumpkin Bread with Maple Glaze
2 large eggs
1 cup pumpkin puree
1/2 cup vegetable oil
1 cup sugar
1/2 tsp ground ginger
1/4 tsp ground nutmeg
1 1/2 cups flour
1/2 tsp salt
1 tsp baking soda
Maple glaze:
1 1/2 cups confectioner's sugar, sifted
4 tbsp maple syrup (more or less)
Set oven to 350F
Spray a non-stick standard loaf pan with cooking spray.
Whisk the eggs in a large mixing bowl. Whisk in the pumpkin, oil, sugar, ginger, and nutmeg.
Stir in the flour, baking soda and salt and mix until combined.
Pour the batter into the pan and even out with a spatula.
Bake until a toothpick comes out without wet batter clinging to it, about 50 minutes.
Let the loaf cool almost to room temperature before glazing.
To make the glaze, whisk together the sugar with enough maple syrup to make a thick, spreadable glaze. Spread onto the cooled bread and serve.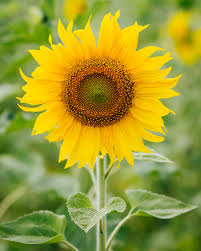 "Keep your face to the sunshine and you cannot see the shadow. It's what sunflowers do."  Helen Keller
Sunflowers in August make me happy and I bet you too. Unfortunately those little critters, Alvin, Simon and Theodore's relatives also like sunflowers and this year they really took a liking to mine, so I have been enjoying them in other gardens. The nice thing about sunflowers is that after the last chance of frost in May has gone, you just have to plant the seeds in your gardens, give them the water they require and let Mother Nature do the rest. This time of year when the annuals are looking a bit tired, the sunflowers capture your attention and make you smile.
Growing Garlic– If you have never grown garlic in your garden before, it's time to start this fall. Garlic takes up very little room in your garden, and once you select the right variety for you, the right time of the year to plant,  and when to harvest and store for a winter you are good to go.It may sound difficult but it is actually quite easy. Elephant garlic is my favorite. Planting is done from mid-September to mid-October when the bulbs become available. Select a spot in your garden with full sun all day long. Amend the soil with compost or animal manure. Break the bulb into individual cloves and use the outside row only. Plant clove in the ground 2 inches deep and 6-8 inches apart with the pointy part facing up(similar to tulips). The plant is ready for harvest mid September-mid October when the lower leaves are turning brown but the upper foliage is still green and healthy looking. Dig the plants deep and far enough away from the plant and do not pull the plant with your hands or it will break into pieces. Shake off the soil but do not wash them. Let them totally dry out and not in the sun, basement or garage is great. Store your garlic in your basement in a basket on the floor where it is cool but does not freeze. Do not place bulbs in plastic bags or they will rot with mold and keep out of the refrigerator or they will begin to sprout.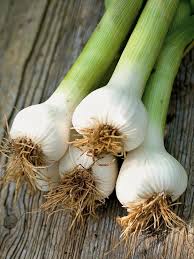 Transplanting- Now is the time to take good notes of the plants  you want to transplant in the garden. The temperatures will be cooling off and it is a great time to start moving things around in the garden. I have already made my list and am itching to get started. Plants like daylilies or other perennials I suggest timing them back, getting rid of the excess foliage(probably brown or scraggly at this point). And giving them a really good soaking after the transplant and days to follow. Shrubs, roses and small trees I would wait until mid September.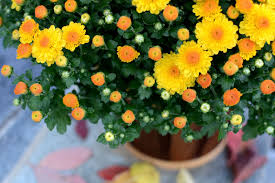 A lot of nurseries are bringing out the Mums now, and I do welcome them because I love fall, but just not yet in the garden for me. If you have some tired containers, then yes go ahead and bring new life into those containers. Make sure when purchasing the mums you select a plant with tight buds so the bloom time will be longer. Full sun is best, and with Asters and Sedum you can quite the display in the ground or in your containers!
Bulb Planting-Time to start ordering your bulbs that you want to see first thing in the spring. There are so many wonderful catalogs and on line sites you can go to and order whatever you like. It can be overwhelming, one of my first years planting bulbs I got so excited i just kept ordering, when the huge box arrived, I was overwhelmed. I have had great luck buying them in nurseries and ordering on line from John Scheepers and Van Engelen, they are sister companies.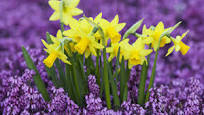 I absolutely love tulips but I have such a huge deer problem its best to plant those in pots. Once you receive your bulbs, store in a cool place, basement or garage. You don't want to plant these too early or they will start to sprout with any warm fall days we get. I typically plant them in October, and use a good bulb fertilizer and Moth balls! Once they are planted I sprinkle the moth balls on top press them into the ground. Alvin and his gang don't seem to like moth balls!
Fall Planting-Fall is a great time to plant and plant grass. Nurseries will start marking plant materials down to move them off site so they don't have to store them for winter. Some of the perennials will look tired, but don't worry, bring them home, cut them back and give them lots of water and next spring you will be pleasantly surprised!
There are no gardening mistakes, only experiments."-Janet Kilburn Phillips

That is a quote I live by. Gardeners are constantly changing locations of plants, trying new plant varieties, and sometimes just putting the wrong plants in the garden, but that's what gardening is all about-trial and error. It's really the passion of wanting to be in the garden, trying new plants, the excitement when it starts to bloom or produce fruit. I recently visited an Olive Tree and Lemon Tree farm north of Sorrento, Italy. It was amazing, acres of lemon trees and olive trees, I was in heaven. But while on the tour what I found so interesting and inspiring was not only the amazing lemons and olives these trees produced but the dedication and commitment this young man(who was a 4th generation farmer-his great grandfather had planted all these trees)and how proud he was to show us his farm. This wasn't some mass producing farm, it was a local farm that made olive oil, sold lemons to local farm stands and markets and of course made the most amazing Limoncello!

Hydrangeas-We all love hydrangeas and why wouldn't we? The constant blooms from July until October are spectacular with so many different varieties.  I often get asked- "Why aren't my hydrangeas blooming?" There are several factors. 1. Is there too much shade? Hydrangeas like 4-5 hours of morning sun. 2. Many varieties bloom on dead wood(the year before).If you are trying to control the size of the hydrangea I recommend pruning right after it blooms. 3. If we have a late spring freeze that occurs after the plant breaks the dormancy it can damage the tender new growth and buds. There are so many new varieties that seem to be a lot hardier here in the Northeast. A couple of new favorites are "Pinky Winky" and "Vanilla Strawberry". Pinky Winky is incredible, because it produces a flower that starts pure white during July and in August, then starts to turn pink, then red on the lower part of the flowers, keeping a white tip. Vanilla Strawberry  flowers are enormous, up to 12 inches tall and 6 plus inches wide. The plant develops a wonderful pure soft white cone shaped flower during early August, and when the weather begins to cool off at the end of the month you are in for a treat. The lower part of the flower begins to turn soft pink and it moves up the flower until it is all pink. Plant in a full sun location garden, but the plant will take a bit of shade late in the day. The better you condition the soil with compost, animal manure and peat moss the more flowers the plant will make for you. During the summer, water as needed once the plant is established in your garden. They will grow in moist soil except soils that stay wet, especially if puddling occurs and soil ices over during the winter months.

Fertilize in the spring and again in the late summer as the flowers begin to develop to increase the size of the flowers and their numbers on the plant. When you plant the hydrangea in your garden give the plant room to grow, as it will grow 6 to 7 feet tall and spread as much as 4 to 5 feet wide. The plant is very strong and can tolerate wind and cold weather with temperatures down to -30 degrees. The one thing you must do in the fall when the flowers are all finished flowering is to remove the flowers from the plant; prune just below each flower for the winter months. The flowers are large and if you leave the faded flowers on the plant and you have an ice storm or heavy wet snowstorm, the faded flowers will catch the snow and ice and the branches will bend with the weight and possibly break the branches of the plant. You can plant these as a hedge also for a mass effect which would be lovely.

Critters-Ok, many of you may think he is cute, I strongly disagree. This little bugger and his family and friends are wreaking havoc on my vegetable garden! For years it was the woodchucks(they got the message) then the deer-which still pay me a visit every morning, the insects, but now the chipmunks.  They seem to love basil, parsley, sunflowers, even some of my zinnia flowers. I changed my fencing around the garden, I have placed marigolds and moth balls-I have had enough, as I am sure many of you have as well. I was told to try this-Strain and add 1 tablespoon of oil. Shake and pour into a spray bottle. Spray this on plants you wish to keep the chipmunks from. Other chipmunk repellent suggestions include castor oil, predator urine and ammonium soap. I plan on trying this tomorrow, stay tuned, if it doesn't work, I am taking matters into my own hands(don't see any woodchucks anymore).

Lastly, I would like to share a photo of a maple syrup bucket that my friend Paul gave to me the other day. I went to visit him and spend some time in his beautiful garden and he gave me this as a gift. I went home and planted it right away and it looks perfect on my goat house(this is the photo before Valentino reached his head over and had a taste). Something as simple as an old maple syrup bucket can transform an area of the garden or add interest even to a smelly goat shed. Just an experiment-just being a gardener! Happy 4th of July to you all and enjoy your gardens!