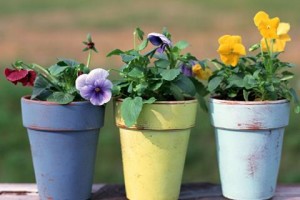 "One touch of nature makes the whole world kin."-William Shakespeare
Pansies-What flower welcomes spring other than Pansies?   Pansies are one of the most popular and recognizable cool weather annuals. The gardener knows pansies as cool weather flowers with almost heart-shaped, overlapping petals in bright colors. As compact, low growers, pansies are ideal for edging and for squeezing between rock walls and paths, as long as they can be removed in summer. They're a great choice for early and late season containers and complement spring flowering bulbs, flowering as the bulb foliage begins to fade.
Composting-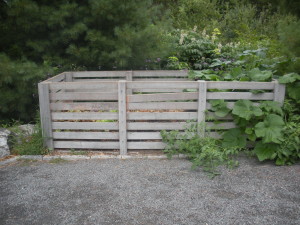 Why Compost? Compost returns valuable nutrients to the soil to help maintain soil quality and fertility. Compost is a mild, slow release, natural fertilizer that won't burn plants like chemical fertilizers. It provides organic matter and nutrients which will improve plant growth and lead to better yields. There are many type of composting bins available to purchase, or you can make your own. This is my ideal composting bin(still waiting for my husband to build this for me), but they don't have to be this fancy. I keep a small stainless steel kitchen pail under the cabinet and fill it with coffee grounds, veggie scraps, and fruit peels. When it is full i empty it out back in my composting bin, which is covered so the animals cannot get into it. There I add my leaves, manure, and shavings, giving it water and turning it often.
Rain Barrels- 
Those of us that have them did not get much use out of them last year, but definitely worth the investment. Because plants thrive on natural rain water – no chlorine, ammonia, fluoride, or other chemicals from municipal water systems, the rainwater collected and stored in rain barrels is ideal for watering lawns and gardens.
Kennedy's Country Garden's, Scituate-is offering their Gardening Green Expo this Saturday, April 1st. This free, family-friendly event runs from 10 am to 4 pm. South Rivers Watershed Association. The WaterSmart program is a partnership of ten South Shore towns providing education to children and adults on water conservation in your home, business, and town. Rain Barrels and Composters can be ordered at this event. Massachusetts Master Gardeners (I will be in the booth) will be there to answer gardening questions and will provide soil testing.
Gardening-to-do's-Mother Nature certainly had us wait out those 6 weeks of additional winter that the furry little creature know as the "ground hog" said we would. We are ready for spring and to get out in our gardens. The temperatures may still be a bit chilly, but time to rake those wet, soggy leaves off our garden beds, pick up the sticks all over the yard, and start bringing out the patio furniture, containers and making sure all your tools are ready to be worked. Fruit trees can be safely pruned until the buds being to swell. Grapes should be pruned back now, while still dormant. Blueberry bushes, if older than 4 years old prune off the dead and lower branches. And my rule of thumb-when you see the Forsythia in bloom, it's time to cut back your roses and your butterfly bushes.

Also, for us bird lovers, clean out those birdhouses and fill those feeders, the finches and chickadees are all about this time of year, who needs an alarm clock when you can hear them singing in the early morning.
Ocean State Job Lot-Ok, so it is a field trip, but boy what great buys you can get. Right now they have beautiful terra-cotta, glazed, and plastic containers that would look spectacular on any patio or porch. Tomato cages, square, pyramidical, obelisks different styes and sizes, tarps(for raking all those leaves) and fertilizers too. Worth the trip. There is one in Rockland on rte. 139 and one in Kingston, off exit 10, off rte. 3 south. If you have a pick up truck, even better-you can load it up! Looking forward to getting our hands in the dirt!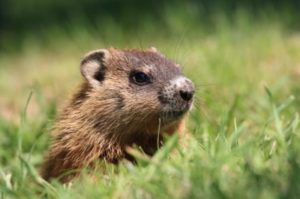 "Spring is when you feel like whistling even with a shoe full of slush."-Doug Larson
Here he is Punxsutawney Phil, or one of his relatives. But today he saw his shadow in Pennsylvania and tells us gardeners there will be 6 more weeks of winter. Well, if they can be like this past January, then I will take it. For us gardeners it is a fun little folklore that will tell us if we will have an early spring or 6 more weeks of winter. We gardeners living here in the Northeast all know that of course we will have 6 more weeks of winter, but pray it won't be any longer. For many gardeners and farmers, including myself I look at this photo and shiver a bit because this furry little creature, which is a herbivore, chomps on the crops we plant, digs holes in our gardens and likes to feast on our fruits and vegetables that we have been waiting all season to harvest. He certainly is note as cute in July. Let's just plow ahead for the 6 weeks of winter and get all of our planning done.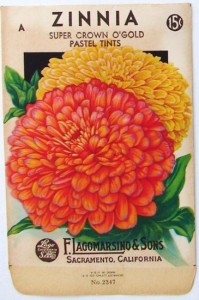 What can a gardener do in February? Lots! February is really the worst month for a gardener, but the good news it is the shortest. February(as long as there is no snow on the ground)is the perfect time to prune deciduous trees and shrubs. They are fully dormant and you can view the entire shape and form of the tree or shrub. DO NOT prune spring flowering shrubs or trees until after they have bloomed. Check your flower beds and see if any plants have heaved. January had some unseasonably warm days followed by some freezing temperatures, these are the perfect conditions to create heaving soil. Firm the soil and add some compost or mulch to stabilize the plant until spring.
Consider starting some seeds of your favorite flowers or vegetables. There are so many beautiful catalogs coming to the house, it's nice to sit with a cup of tea and pick out your favorites. It's also a great time to walk the yard, really take a look at your landscape and think about what you may want to add or remove from your garden.
February is also a wonderful time to order your spring chicks!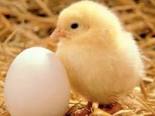 Remember chicken manure is like liquid gold to your garden(that's how I convinced my husband I needed chickens, still trying to get those goats to eat poison ivy and stop eating my hydrangeas and roses). There are some great hatcheries you can order from if you want specific hens(I ordered lavender orpingtons-I have always wanted a purple chicken!) Or local feed stores will have different breeds you can select and place your order, but now is the time to start thinking about it, my order will arrive in April, and I can't wait!
House plants-in my opinion, you can never have too many. Visit some local garden centers that may be open during the winter, especially if they have a green house, and treat yourself to a few new plants. And always have something blooming in your house at all times, fresh cut flowers, african violets, amaryllis,orchids, the list is endless. It warms up the house and helps you think about spring.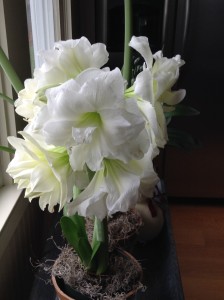 Lastly, start working on your core and resting your back so you will be prepared to get digging as soon as the weather allows us to. Before we know it we will be welcoming that beautiful yellow color of forsythia.
We are nearer to spring Than we were in September, I heard a bird sing In the dark of December." Oliver Herford
Today is the Full Cold Moon, and with the temperatures dropping this week we will certainly feel it! A little over a week and we have Winter Solstice.
Just because the temps are getting colder and the ground is beginning to freeze, we can still have fun decorating our homes with many winter blooming Orchids, Poinsettia's, Christmas cactus, cyclamen plants, Amaryllis, and even cute little boxwood topiaries.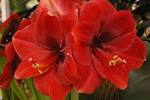 Many of your local garden centers and florist are filled with many of these plants, so go out and get yourself some, not just one, load up the house! And for the outside, yes all of our plants are going dormant, but why not jazz up the front stoop and porch with some birch, red twigs, winterberry, pinecones and greens.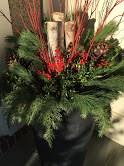 It's all about being festive this time of year, anything goes! Especially the big colored lights on your tree, it brings out the kid in all of us!
Selecting the perfect Christmas tree can be a holiday tradition or seasonal nightmare. For those of you that have a fake tree, it takes off a lot of pressure. For for those of us that will not allow anything fake(relating to garden like) into your house than this can sometimes be a challenge. Or you may consider buying a potted tree that can be planted outside.
Choose a tree that you can handle, since the dirt ball or pot will be heavy.
Pick out the tree while the weather is good and the moving is easy.
Your living tree can only stay in the house for 7 to 10 days. So, plan for the time that the tree will be in the house and out.
Do not fill the container with water–a quart at a time will do. To help keep the tree dormant, spray the foliage with Wilt-Pruf or Wilt Stop. This will keep the moisture in the tree. Mist the tree daily with water. After the holidays, if the weather is stormy or very cold, place the tree in the garage or barn. If that is not possible, put it up against the house or fence to keep it out of direct sun and the wind. Cover the root ball with bark mulch, straw or soil until spring. You can plant the tree in the yard if the weather is good, but you will have to dig the hole before the ground freezes and bring the soil into the garage so it does not freeze. You must also fill the hole with leaves in a trash bag just in case it snows or you will never find it (or worse, find it by falling in it). I wait until spring…it's easier! The living tree is more work than the traditional cut tree but you will not be sorry when you see the results.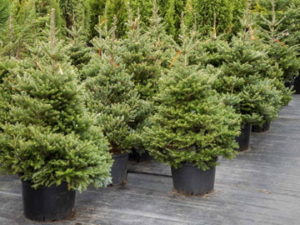 Garden Christmas gifts for your gardener. There are so many adorable ornaments you can find at many local garden stores or online at Gardener's Supply or even local feed stores. Or the best gift is to get a gift certificate for you gardener at their favorite garden or feed store!
Lastly, I hope you all have a relaxing and wonderful Holiday with your friends and family. Here is Valentino and Benito getting Santa ready for his trip, lets hope he has raisins!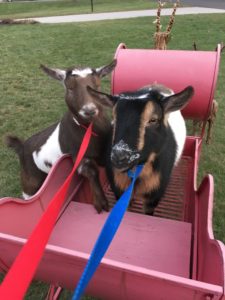 "Autumn is a second spring when every leaf is a flower"-Albert Camus

What is the Harvest Moon?
The Harvest Moon is the full Moon nearest the start of fall or the autumnal equinox. This usually means it's the September full Moon though it can also fall in early October, coming anywhere from two weeks before to two weeks after the equinox. Also,the Full Harvest Moon rises at sunset and then will rise near sunset for several nights in a row because the difference is at a yearly minimum. It may almost seem as if there are full Moons multiple nights in a row!
The abundance of bright moonlight early in the evening was a traditional aide to harvest crews, hence the "Harvest" Moon.
It's Autumn…and boy it has been a beautiful summer, but all of us gardeners would like a bit more rain. This is the time that we should be actively transplanting perennials, shrubs and trees. I am not going to tell you not to, BUT there are some steps you should take before setting out to the garden. First, you should not transplant anything after October 15th, plants begin to go dormant, and after the stress and lack of water from this summer, they need to. Alot of perennials, roses  and shrubs were susceptible to powdery mildew or leaf rot this year, do not compost this in, trim out all the dead discard elsewhere. Autumn is a great time to go to the nursery and get plant materials on sale. This is great, BUT you want to look over the plant and check the quality of it, make sure the rootball is nice and firm whether it is in burlap or container. Check the foliage of the plant, is it healthy looking? Does it have healthy branches or are they broken and dead? You may also want to consider planting native plants that are more drought tolerant like globe thistle. The butterflies go crazy for this in the summer and the finches and chikadees go for the seed in the flower head. Grasses, great in the garden, so many varieties, and also drought tolerant. When transplanting or adding new plant material, you want to soak the hole first, then soak it after planting. If you are planting shrubs, you really need to hand water everyday until we have our first frost. The ground is extremely dry, even if you have irrigation(which is probably off like mine) it only reaches the surface of the area, it doesn't set in. If you were to dig 4 inches down, it is bone dry.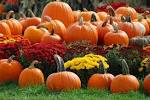 For some added color why not add some fall annuals such as mums, kale, cabbage, asters and purple fountain grass, and of course through a pumpkin or two in there. Kale and cabbage love the cool weather and you can use them in you holiday containers, I typically use "white pigeon" and it lasts all the way through the holidays.
Vegetable gardens: Believe it or not, mine is still producing(except for what the deer have eaten) but mid October when you put them to bed for the season make sure if any of your plants have mold or powdery mildew you DO NOT put them in the compost-discard elsewhere.
House Plants: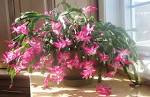 If you are like me, all my houseplants have been "out on summer vacation". It's time to start thinking about bringing them back indoors, once the temperatures dip to 55 degrees. You want to wash the plant with warm water and a soft cloth with mild dish detergent such as Dawn. Remove all those pesky insects, webs and eggs by spraying All Season Oil. The Christmas cactus, which is one of my favorites and yes, I have 8, all different colors, try and keep out as late as possible to give the plant time to make the flower buds. I keep mine in a sheltered area until Mid-October, once inside put in a sunny but cool room 50-60 degrees. Now, mine typically bloom closer to Thanksgiving, but that just allows me to pick up one or two more around Christmas.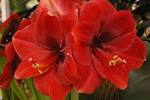 If you are bringing in Gardenias, you will need humidity for the plant, so do not place in a room with high heat. If you buried your Amaryllis bulb in the garden, time to dig it up in the beginning of October. Remove the dead foliage and plant in a pretty pot and leave in the basement until mid-November. Or you can go to your local nursery or home depot and purchase a bulb and pot it- I don't recommend the plastic pot because they get top heavy and will tip over, use a heavier, sturdy pot.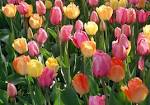 Bulb Planting:
Step 1: Loosen soil in the planting bed to a depth of at least 8". Remove any weeds, rocks or other debris. You can mix in compost, other organic matter or slow releasing fertilizer if your soil lacks nutrients.
Step 2: Depending on the bulb, follow the recommendation on the label for planting depth. As a general rule, plant big bulbs about 8″ deep and small bulbs about 5″ deep. Set the bulb in the hole pointy side up or the roots down. It's easy to spot the pointy end of a tulip; tougher with a crocus. If you can't figure out the top from the bottom, plant the bulb on its side, in most cases, even if you don't get it right, the flower bulb will still find its way topside. Also, add a bulb booster fertilizer to the hole, I do not recommend bone meal because those pesky critters tend to like the taste.
Step 3: Now that the bulbs are planted, back fill with soil over the hole, lightly compress the soil but do not pack it. Water to stimulate root growth. There is no need to water continuously unless you live in an area with low precipitation in the winter months.
Step 4: I strongly recommend putting mothballs around the areas that you planted, yes it will be a bit smelly, but also smelly to those pesky critters. Nothing worse than planting hundreds of bulbs and waking the following morning to see all your holes dug up and bulbs scattered everywhere-happened to me the first year I planted bulbs, I was not happy.
The Farmer's Almanac is predicting a cold and snowy winter for New England. So when putting the gardens to bed this fall I do recommend keeping a bed of leaves on your tender plants, just incase we get the cold temperatures without the snow-which acts as an insulator. But lets not think of that now, lets just enjoy this beautiful season and our gardens. As always, Happy gardening!