"Garden as though you will live forever"-William Kent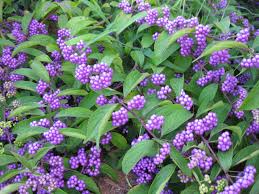 This is the way I live each and every day, because we all know that every day is a gift. And what is better than giving yourself constant gifts in the garden. Now, if you ask my husband he will tell you I don't possibly need one more item for my gardens, but it is not about the need it's the want. We gardeners are constantly learning about new plant materials, whether it is all the wonderful magazines we read, the lectures we attend or even popping by a friends garden. The other night I attended a lecture and this gorgeous Japanese Beautyberry was one of the shrubs they talked about. I have planted many of these for clients and friends, but then sat there saying to myself-"why don't I have this in my garden?" My quick answer to myself-"first thing I will get in the spring!" This is "Early Amethyst"the primary ornamental feature is the spectacular display of the lilac-violet fruit in the fall.The prefer full to partial sun. The leaves are also striking and add interest in any garden. This is a great time to think about your gardens, hopefully you made some notes and you can immerse yourself in how you will add to your gardens as soon as the ground thaws.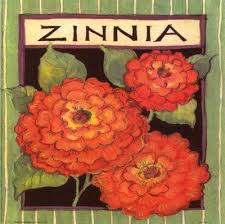 Seed Catalogs- I love when they fill up my table. I sit and look at them for hours, check off multiple pages then go back and realize I don't have the space for all I want to order.But there are always the favorites like Zinnias-such a happy flower! If you are new to growing plants from seed, keep it simple. Because each plant has different seed starting requirements, I suggest trying a few of the same varieties to start indoors. Try tomatoes, basil, marigolds, cosmos, nasturtiums and of course Zinnias.
Full Wolf Moon/Full Old Moon- This month we have 2 full moons, we had the first one on New Year's Day, and the second which is on January 31st. A blue moon is the second full moon that occurs in a month, this year we have 2 blue moons, January and March, none in February-but just a fun fact.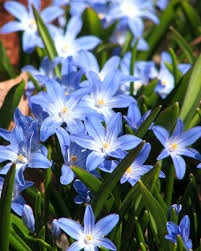 Early Bloomers- One of the early bloomers that flower in early spring are glory of the snow and spring snowflake. Glory of the snow can sometimes be seen poking through the melting snow. It is deer resistant and offers a beautiful lilac color blossom which after a long winter is a welcoming sight. Spring snowflake is a beautiful white bell shape flower that multiplies and is a great choice for pond side plantings.

Lastly, with all the snow we received from Mother Nature earlier this month, embrace it. With the frigid temperatures that followed and high winds, if we didn't have the snow to act as an insulator, many of our evergreens would suffer from winter burn or wind damage. I know with this wonderful thaw we have going on you may be tempted to go out and brush off your plants or shrubs, don't. Plain and simple. You may damage the plant worse than the snow. Don't worry they are hardy and will bounce back, may need a little trimming, but trust me stay indoors and focus on what you will be planting in garden for the spring!