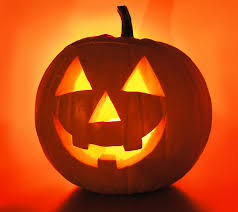 "There is magic in the night when pumpkins glow by moonlight"
Carving pumpkins into jack-o'-lanterns is a popular Halloween tradition that originated hundreds of years ago in Ireland. Back then, however, jack-o'-lanterns were made out of turnips or potatoes; it wasn't until Irish immigrants arrived in America and discovered the pumpkin that a new Halloween ritual was born. Who doesn't love Halloween? It's so much more than Jack-o-lanterns, fun and scary costumes and of course candy corn! It's such a beautiful time of year, especially for gardeners! You are busy in the garden harvesting all the remaining tomatoes, kale, squash, herbs, preparing the gardens for the fall, planting you garlic. This year has been especially great because our gardens(for the most part) are still blooming. With the extended warm temperatures, we have our roses continuously blooming, the hydrangea blooms are spectacular, and our lawns are still green. Also, great time to get out there and divide and transplant. Remember when cleaning your beds to keep a layer of leaves around the plants, it may look messy but your plants will benefit from it when Old Man Winter arrives. Especially if we have a cold snap and there isn't any snow on the ground, which acts as an insulator for the plants.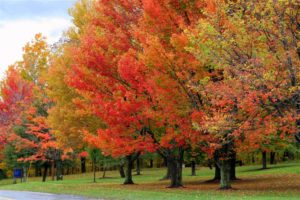 And living in New England we get a bonus of a beautiful display of color, I find myself daydreaming while driving on rte. 128.
Bulbs-Who does't love a gorgeous garden of spring flowering bulbs? There are so many different varieties to choose from, it is Endless. Tulips and Daffodils are my favorites, it's a flower that is welcoming us to springtime! When you select your tulips for the garden, select the biggest bulbs you can as they are older and more mature for bigger flowers, longer blooming flowers, and longer lasting plant in your garden.
Always plant in groups and never in straight lines as it will be easier to plant annuals around them as the daffodil and tulip foliage begins to fade. Remove the foliage to the ground ONLY when the foliage begins to turn yellow! Plant bulbs with a covering of conditioned soil that covers the bulb with twice as much soil as the bulb is high. Again, rake the bark mulch over them and keep the layer of leaves over them for added protection for winter. I always add a box of moth balls to the area too, helps keep those pesky critters away. Unfortunately, it doesn't seem to deter the deer. I have found myself planting more daffodils since the deer don't find them as tasty.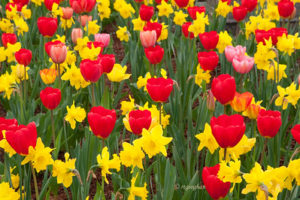 Winter flowering bulbs- Never too early to start thinking of flowers for the holidays, I know we don't want to think about that yet, but we gardeners need to have something in bloom all year round, whether it is inside or outside. There are many types of Amaryllis bulbs and Paperwhite Narcissus bulbs that can be forced to bloom around the holidays. You an mail order them from different gardening catalogs or websites or local nurseries will have them closer to the holidays OR you can go to Home Depot or Lowes and get these bulbs for under $10 dollars, they come in kits. I recommend taking them out of the plastic pots(when the grow they tend to get top heavy and the plastic pot can't weight it down)plant them in a festive container, rustic terracotta pot, or even multiple in a container, place in a sunny window and water once a week.
Lastly, I hope everyone has a wonderful Halloween, and once you carve that jack-o-lantern, put a teaspoon of pumpkin spice in it before lighting it and enjoy the lovely scent on your doorstep.
Pumpkin Bread with Maple Glaze
2 large eggs
1 cup pumpkin puree
1/2 cup vegetable oil
1 cup sugar
1/2 tsp ground ginger
1/4 tsp ground nutmeg
1 1/2 cups flour
1/2 tsp salt
1 tsp baking soda
Maple glaze:
1 1/2 cups confectioner's sugar, sifted
4 tbsp maple syrup (more or less)
Set oven to 350F
Spray a non-stick standard loaf pan with cooking spray.
Whisk the eggs in a large mixing bowl. Whisk in the pumpkin, oil, sugar, ginger, and nutmeg.
Stir in the flour, baking soda and salt and mix until combined.
Pour the batter into the pan and even out with a spatula.
Bake until a toothpick comes out without wet batter clinging to it, about 50 minutes.
Let the loaf cool almost to room temperature before glazing.
To make the glaze, whisk together the sugar with enough maple syrup to make a thick, spreadable glaze. Spread onto the cooled bread and serve.