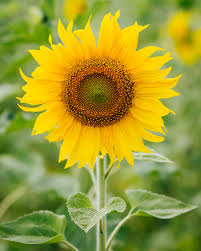 "Keep your face to the sunshine and you cannot see the shadow. It's what sunflowers do."  Helen Keller
Sunflowers in August make me happy and I bet you too. Unfortunately those little critters, Alvin, Simon and Theodore's relatives also like sunflowers and this year they really took a liking to mine, so I have been enjoying them in other gardens. The nice thing about sunflowers is that after the last chance of frost in May has gone, you just have to plant the seeds in your gardens, give them the water they require and let Mother Nature do the rest. This time of year when the annuals are looking a bit tired, the sunflowers capture your attention and make you smile.
Growing Garlic– If you have never grown garlic in your garden before, it's time to start this fall. Garlic takes up very little room in your garden, and once you select the right variety for you, the right time of the year to plant,  and when to harvest and store for a winter you are good to go.It may sound difficult but it is actually quite easy. Elephant garlic is my favorite. Planting is done from mid-September to mid-October when the bulbs become available. Select a spot in your garden with full sun all day long. Amend the soil with compost or animal manure. Break the bulb into individual cloves and use the outside row only. Plant clove in the ground 2 inches deep and 6-8 inches apart with the pointy part facing up(similar to tulips). The plant is ready for harvest mid September-mid October when the lower leaves are turning brown but the upper foliage is still green and healthy looking. Dig the plants deep and far enough away from the plant and do not pull the plant with your hands or it will break into pieces. Shake off the soil but do not wash them. Let them totally dry out and not in the sun, basement or garage is great. Store your garlic in your basement in a basket on the floor where it is cool but does not freeze. Do not place bulbs in plastic bags or they will rot with mold and keep out of the refrigerator or they will begin to sprout.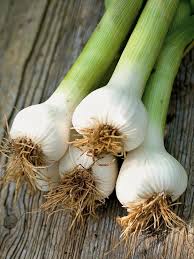 Transplanting- Now is the time to take good notes of the plants  you want to transplant in the garden. The temperatures will be cooling off and it is a great time to start moving things around in the garden. I have already made my list and am itching to get started. Plants like daylilies or other perennials I suggest timing them back, getting rid of the excess foliage(probably brown or scraggly at this point). And giving them a really good soaking after the transplant and days to follow. Shrubs, roses and small trees I would wait until mid September.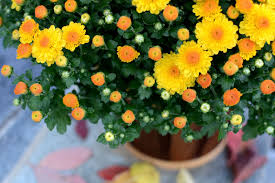 A lot of nurseries are bringing out the Mums now, and I do welcome them because I love fall, but just not yet in the garden for me. If you have some tired containers, then yes go ahead and bring new life into those containers. Make sure when purchasing the mums you select a plant with tight buds so the bloom time will be longer. Full sun is best, and with Asters and Sedum you can quite the display in the ground or in your containers!
Bulb Planting-Time to start ordering your bulbs that you want to see first thing in the spring. There are so many wonderful catalogs and on line sites you can go to and order whatever you like. It can be overwhelming, one of my first years planting bulbs I got so excited i just kept ordering, when the huge box arrived, I was overwhelmed. I have had great luck buying them in nurseries and ordering on line from John Scheepers and Van Engelen, they are sister companies.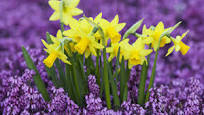 I absolutely love tulips but I have such a huge deer problem its best to plant those in pots. Once you receive your bulbs, store in a cool place, basement or garage. You don't want to plant these too early or they will start to sprout with any warm fall days we get. I typically plant them in October, and use a good bulb fertilizer and Moth balls! Once they are planted I sprinkle the moth balls on top press them into the ground. Alvin and his gang don't seem to like moth balls!
Fall Planting-Fall is a great time to plant and plant grass. Nurseries will start marking plant materials down to move them off site so they don't have to store them for winter. Some of the perennials will look tired, but don't worry, bring them home, cut them back and give them lots of water and next spring you will be pleasantly surprised!