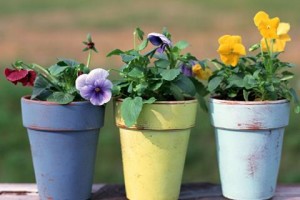 "One touch of nature makes the whole world kin."-William Shakespeare
Pansies-What flower welcomes spring other than Pansies?   Pansies are one of the most popular and recognizable cool weather annuals. The gardener knows pansies as cool weather flowers with almost heart-shaped, overlapping petals in bright colors. As compact, low growers, pansies are ideal for edging and for squeezing between rock walls and paths, as long as they can be removed in summer. They're a great choice for early and late season containers and complement spring flowering bulbs, flowering as the bulb foliage begins to fade.
Composting-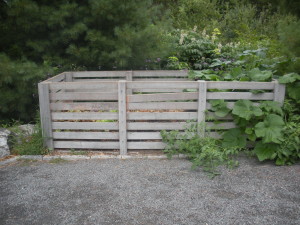 Why Compost? Compost returns valuable nutrients to the soil to help maintain soil quality and fertility. Compost is a mild, slow release, natural fertilizer that won't burn plants like chemical fertilizers. It provides organic matter and nutrients which will improve plant growth and lead to better yields. There are many type of composting bins available to purchase, or you can make your own. This is my ideal composting bin(still waiting for my husband to build this for me), but they don't have to be this fancy. I keep a small stainless steel kitchen pail under the cabinet and fill it with coffee grounds, veggie scraps, and fruit peels. When it is full i empty it out back in my composting bin, which is covered so the animals cannot get into it. There I add my leaves, manure, and shavings, giving it water and turning it often.
Rain Barrels- 
Those of us that have them did not get much use out of them last year, but definitely worth the investment. Because plants thrive on natural rain water – no chlorine, ammonia, fluoride, or other chemicals from municipal water systems, the rainwater collected and stored in rain barrels is ideal for watering lawns and gardens.
Kennedy's Country Garden's, Scituate-is offering their Gardening Green Expo this Saturday, April 1st. This free, family-friendly event runs from 10 am to 4 pm. South Rivers Watershed Association. The WaterSmart program is a partnership of ten South Shore towns providing education to children and adults on water conservation in your home, business, and town. Rain Barrels and Composters can be ordered at this event. Massachusetts Master Gardeners (I will be in the booth) will be there to answer gardening questions and will provide soil testing.
Gardening-to-do's-Mother Nature certainly had us wait out those 6 weeks of additional winter that the furry little creature know as the "ground hog" said we would. We are ready for spring and to get out in our gardens. The temperatures may still be a bit chilly, but time to rake those wet, soggy leaves off our garden beds, pick up the sticks all over the yard, and start bringing out the patio furniture, containers and making sure all your tools are ready to be worked. Fruit trees can be safely pruned until the buds being to swell. Grapes should be pruned back now, while still dormant. Blueberry bushes, if older than 4 years old prune off the dead and lower branches. And my rule of thumb-when you see the Forsythia in bloom, it's time to cut back your roses and your butterfly bushes.

Also, for us bird lovers, clean out those birdhouses and fill those feeders, the finches and chickadees are all about this time of year, who needs an alarm clock when you can hear them singing in the early morning.
Ocean State Job Lot-Ok, so it is a field trip, but boy what great buys you can get. Right now they have beautiful terra-cotta, glazed, and plastic containers that would look spectacular on any patio or porch. Tomato cages, square, pyramidical, obelisks different styes and sizes, tarps(for raking all those leaves) and fertilizers too. Worth the trip. There is one in Rockland on rte. 139 and one in Kingston, off exit 10, off rte. 3 south. If you have a pick up truck, even better-you can load it up! Looking forward to getting our hands in the dirt!