"Autumn is a second spring when every leaf is a flower"-Albert Camus

What is the Harvest Moon?
The Harvest Moon is the full Moon nearest the start of fall or the autumnal equinox. This usually means it's the September full Moon though it can also fall in early October, coming anywhere from two weeks before to two weeks after the equinox. Also,the Full Harvest Moon rises at sunset and then will rise near sunset for several nights in a row because the difference is at a yearly minimum. It may almost seem as if there are full Moons multiple nights in a row!
The abundance of bright moonlight early in the evening was a traditional aide to harvest crews, hence the "Harvest" Moon.
It's Autumn…and boy it has been a beautiful summer, but all of us gardeners would like a bit more rain. This is the time that we should be actively transplanting perennials, shrubs and trees. I am not going to tell you not to, BUT there are some steps you should take before setting out to the garden. First, you should not transplant anything after October 15th, plants begin to go dormant, and after the stress and lack of water from this summer, they need to. Alot of perennials, roses  and shrubs were susceptible to powdery mildew or leaf rot this year, do not compost this in, trim out all the dead discard elsewhere. Autumn is a great time to go to the nursery and get plant materials on sale. This is great, BUT you want to look over the plant and check the quality of it, make sure the rootball is nice and firm whether it is in burlap or container. Check the foliage of the plant, is it healthy looking? Does it have healthy branches or are they broken and dead? You may also want to consider planting native plants that are more drought tolerant like globe thistle. The butterflies go crazy for this in the summer and the finches and chikadees go for the seed in the flower head. Grasses, great in the garden, so many varieties, and also drought tolerant. When transplanting or adding new plant material, you want to soak the hole first, then soak it after planting. If you are planting shrubs, you really need to hand water everyday until we have our first frost. The ground is extremely dry, even if you have irrigation(which is probably off like mine) it only reaches the surface of the area, it doesn't set in. If you were to dig 4 inches down, it is bone dry.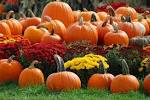 For some added color why not add some fall annuals such as mums, kale, cabbage, asters and purple fountain grass, and of course through a pumpkin or two in there. Kale and cabbage love the cool weather and you can use them in you holiday containers, I typically use "white pigeon" and it lasts all the way through the holidays.
Vegetable gardens: Believe it or not, mine is still producing(except for what the deer have eaten) but mid October when you put them to bed for the season make sure if any of your plants have mold or powdery mildew you DO NOT put them in the compost-discard elsewhere.
House Plants: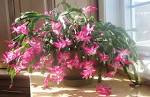 If you are like me, all my houseplants have been "out on summer vacation". It's time to start thinking about bringing them back indoors, once the temperatures dip to 55 degrees. You want to wash the plant with warm water and a soft cloth with mild dish detergent such as Dawn. Remove all those pesky insects, webs and eggs by spraying All Season Oil. The Christmas cactus, which is one of my favorites and yes, I have 8, all different colors, try and keep out as late as possible to give the plant time to make the flower buds. I keep mine in a sheltered area until Mid-October, once inside put in a sunny but cool room 50-60 degrees. Now, mine typically bloom closer to Thanksgiving, but that just allows me to pick up one or two more around Christmas.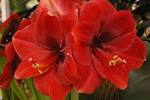 If you are bringing in Gardenias, you will need humidity for the plant, so do not place in a room with high heat. If you buried your Amaryllis bulb in the garden, time to dig it up in the beginning of October. Remove the dead foliage and plant in a pretty pot and leave in the basement until mid-November. Or you can go to your local nursery or home depot and purchase a bulb and pot it- I don't recommend the plastic pot because they get top heavy and will tip over, use a heavier, sturdy pot.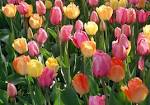 Bulb Planting:
Step 1: Loosen soil in the planting bed to a depth of at least 8". Remove any weeds, rocks or other debris. You can mix in compost, other organic matter or slow releasing fertilizer if your soil lacks nutrients.
Step 2: Depending on the bulb, follow the recommendation on the label for planting depth. As a general rule, plant big bulbs about 8″ deep and small bulbs about 5″ deep. Set the bulb in the hole pointy side up or the roots down. It's easy to spot the pointy end of a tulip; tougher with a crocus. If you can't figure out the top from the bottom, plant the bulb on its side, in most cases, even if you don't get it right, the flower bulb will still find its way topside. Also, add a bulb booster fertilizer to the hole, I do not recommend bone meal because those pesky critters tend to like the taste.
Step 3: Now that the bulbs are planted, back fill with soil over the hole, lightly compress the soil but do not pack it. Water to stimulate root growth. There is no need to water continuously unless you live in an area with low precipitation in the winter months.
Step 4: I strongly recommend putting mothballs around the areas that you planted, yes it will be a bit smelly, but also smelly to those pesky critters. Nothing worse than planting hundreds of bulbs and waking the following morning to see all your holes dug up and bulbs scattered everywhere-happened to me the first year I planted bulbs, I was not happy.
The Farmer's Almanac is predicting a cold and snowy winter for New England. So when putting the gardens to bed this fall I do recommend keeping a bed of leaves on your tender plants, just incase we get the cold temperatures without the snow-which acts as an insulator. But lets not think of that now, lets just enjoy this beautiful season and our gardens. As always, Happy gardening!