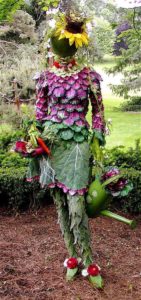 "Hot July brings cooling showers, Apricots and gilly flowers"-Sara Coleridge, English writer
Meet my new friend Bella, she is just beautiful! We all need her in our gardens! What a summer it has been. Because of the extreme dry and hot temperatures there are things you need to be doing in your gardens.
With the heat and humidity, keep a close eye on your garden for powdery mildew. This is the worst fungus during the summer months, and it will move quickly on many plants in your yard and garden. Powdery mildew will begin as a white dust like covering on the leaves of your plants, especially if you water your garden with overhead sprinklers–and especially if you do it late in the day. As powdery mildew spreads on your plant, it will block the sunlight from your foliage and the leaves will turn brown and black quickly dying.
Perennials, shrubs and trees will survive,  but this fungus is easily controlled if you prepare and act now. Annual flowers and vegetables in your garden will not survive if this fungus attacks the plant and they will slowly die.  Treat them with a good fungicide such as: Bio-Safe organic disease control, copper fungicide or sulfur fungicide. Never use and pesticides or fungicides on your garden or the bright sun will burn the foliage of your plants and in some case kill them. If you have a problem and you must spray your plants, be sure to apply the product early in the morning, before 9:00 am, so the sun can dry the foliage early, before the day and the plants get hot.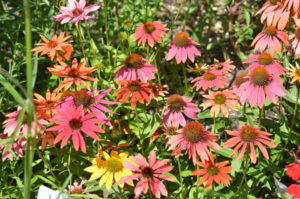 For your perennials, deadhead the faded flowers from the plant and they will bloom again in just a few weeks. Some will continue to bloom right through the summer months if you remove the faded flowers.  Cut back the stems and seed pods from your daylilies to promote future blooms. Cut back daisy flowers like black-eyed Susans and coreopsis, they will become fuller.
Your lawn will need one inch of water per week to keep it green during these hot days. Water first thing in the morning before it gets hot out, and water less often but extend the time. Raise the level of the lawn mower blade to the highest spot to keep the grass tall, and mow your lawn less often to keep it green and healthy.
Water your vegetable garden and flower garden early in the day, never water at night or you will increase the chances of disease problems and attract insects to your garden. If you water during the heat of the day, more than half of the water you apply to the garden will dry up before it reaches the roots of the plant because of the hot sun.
Feed your containers and hanging baskets at least every 2 weeks. I like to use Neptune's Harvest Fish and Seaweed fertilizer. Water often so plants won't dry out.
Keep up with the weeding, many weeds are making seeds for next year's garden. I find if you  weed once a week, first thing in the morning with a cup of tea, before it gets hot, you are able to get more done. Deadhead annuals and hanging plants too.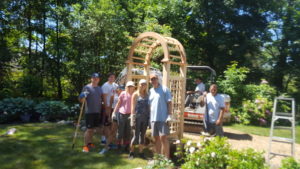 Once again I am truly moved by the generosity  and volunteers that came forward to help plant a "memory garden" for a wonderful family who suffered a tragic loss. The garden consists of a lovely cedar arbor, climbing roses, clematis, hydrangeas, perennials and boxwoods. A big shout out to Chris Kennedy from Kennedy Country gardens, Dave Seoane, from Seoane's Nursery and AVO cedar fence in Hingham. Sergio Pungitore, once again for always donating his time, equipment, tools and support to all the volunteer projects I am involved in. But most importantly to the kind and caring people that came to help volunteer for this family, some of which are friends and some who just wanted to lend a helping hand. Thank you all!