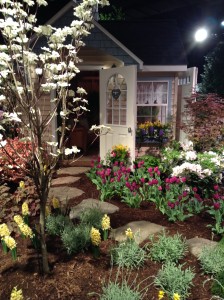 "First a howling blizzard woke us, then the rain came down to soak us, And now before the eye can focus-Crocus!"-Lilja Rogers
Wouldn't this be a lovely accent to your garden? Forget chickens and goats, I would live in it! This is on display right now at the Boston Flower and Garden Show. Even with the mild winter we had(thank you Mother Nature from the bottom of my hear!) it is still nice to go in and smell all the wonderful fragrance of spring-especially the hyacinths.
Pansies-the first sign of spring for us New Englanders. Their cheerful flower faces welcome the new season. Pansies are easy to grow and are hardy in any weather, they can tolerate cold and wet weather, in sunny or shady spots and look spectacular in containers, window boxes or even the garden. Pansies are not fussy, they like rich, loose soil and to be watered regularly. Deadhead plants once the flowers have passed and will promote future blooms.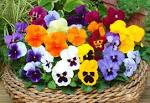 Gardener's to do list:
Ok, fellow gardeners lets check our list for early spring work. Are your blades sharpened on your lawn mower? Do you need to clean or sharpen shears, pruners or loppers? Is there air in the tire of your wheelbarrow? New gardens gloves(hopefully the Easter Bunny will have some in my basket) Take your sprinklers and hose nozzles out. Garden furniture-does it need to be repaired, painted or replaced? washed? Time to plan out the veggie and flower garden(we did this in February). Think about adding garden ornaments to be a focal point in your garden, I want this-saw it at the flower show.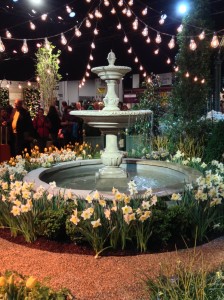 Check tomato cages, trellis and arbors. Clean out the birdbaths. If the Compost pile has been frozen all winter, add manure now and turn it frequently. Trim Asparagus beds, remove old dead ferns and stalks from last year. Fruit trees can be safely pruned(deer did that for me) until buds begin to swell. Prune grapes at this time also while still dormant. Blueberry bushes, if older than 4 years old prune some of the dead off, or lower branches, fertilize now and late spring. (I add a fresh coat of wood chips to mine every year). ***Roses and butterfly bushes** when you see the forsythia in bloom time to cut those back.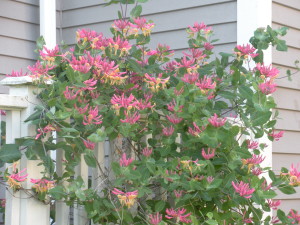 Honeysuckle-This is one of my favorite vines to grow. It is non-invasive to North America and visited constantly by hummingbirds and butterflies. They have a 2″ long trumpet shaped bloom and come in many colors, red, yellow, orange or even this pink shade like mine. It blooms from mid spring until early summer, in the fall it produces red berries that attract songbirds. You can grow this successfully in a fence, arbor or trellis is full sun.
Nothing says the arrival of spring better than a bunch of new baby chicks! Yes, I have had some time on my hands and am a softy for these little gals, so I got creative and thought I would welcome spring even earlier, in my basement! Their cute little chirps gave me away, (my husband was nervous to go downstairs)but hey at least there are only 8 down there, just wait until the end of May!