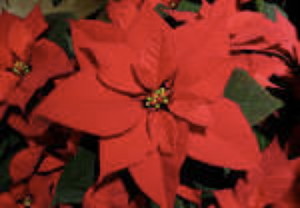 Here it is December 21st, Winter Solstice. Today we can celebrate the sun's return and it is 50 degrees! What a gift. After today the nights will grow shorter and the days grow longer. For those of you who were not able to get their bulbs in the ground, get out there this week and plant them! Everywhere you look, greens look healthy still, wreaths are still perky and our lawns still look great, thank you Mother Nature.
The flower of December is the Poinsettia.  In the early 1900's FEAR filled the minds of mothers all over America. A nasty rumor spread that Poinsettias were poisonous and that a child who ate just one leaf could become very ill or even die. Mothers began to avoid this wonderful plant for the holidays and it quickly lost all its appeal. In 1919, things got even worst as an Army doctor circulated an untrue story that a two year old toddler died after eating just one leaf from a plant growing near a playground in Hawaii. Now the media began to label this plant as dangerous and if you lived in a warm climate where the plant grew, they said to pull all plants out for your own safety.
Finally in the 1970's, the Society of American Florists asked Ohio State University to test the plant and uncover the truth, poison or not poison. The results were overwhelming and their findings concluded that a 50 pound child or even your pet could eat 500 red bracts and suffer only a mild upset stomach. Also the American Medical Association released a statement of assurance that poinsettias have never been responsible for poisonings or fatalities. The plant was saved from devastation and is today's bestselling Christmas plant.
So may every home display lovely Poinsettia plants throughout the holidays.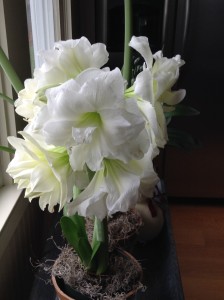 And there are so many different colors to choose from, my favorite being red. Of course another favorite of mine is the Amaryllis. This is a gorgeous white one in my kitchen, it is truly spectacular. I have a red one growing right behind it that should pop open any day now.
Holiday Gift Ideas for the gardeners. Now I speak for all gardeners out there, if you are looking for that perfect stocking stuffer, what better than a new pair of gardening gloves and Felco pruning shears. It is always a great idea to have a second pair, especially if you are always leaving them places like I do. For winter reading I have a few books I refer to each winter. The Garden Primer by Barabara Damrosch, The Vegetable Gardener's Bible by Edward C. Smith and of course for all of you backyard homesteaders-Backyard Homestead by Colleen Madigan. The seed catalogs will be arriving shortly too, which are always so colorful and cheery during our cold winter months. My last gift idea. A good pair of gardening shoes/boots. I have destroyed my Bog boots and recently just purchased a pair of Muck boots, but I have to tell you, they are the most comfortable pair of boots, they keep my feet dry, especially in early spring when the ground is wet. They also protect my lower legs from thorns and scrub brush, poison ivy, etc. But mostly, they keep me grounded, I tend to move quickly and sometimes am not as graceful as I think I am. Any of these gifts you surprise your gardener with, I can tell you will be thrilled.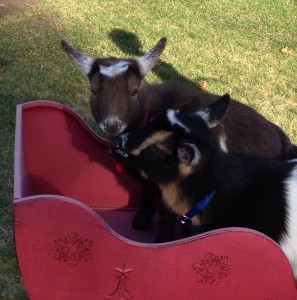 Lastly, I would like to share with you my wonderful goats Benito and Valentino. If you see me walking them around town it's because I am looking for white pine and pine needles, a tasty treat they love, along with raisins. Here we borrowed a neighbors sleigh, think they were looking for Santa for some treats!
May you all have a very Merry Christmas and a happy and healthy New Year.
Hot Cranberry Cocktail
3 qt. Cranberry juice, 1/2 C sugar, 3-4 tangerines sliced with whole cloves. Simmer for 10 minutes add 2 1/2 C light colored rum, simmer on stove. Enjoy!