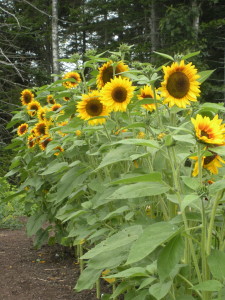 " Gardeners, I think dream larger than emperors"– Mary Cantwell
Isn't that the truth? We can never have enough blooming in our gardens! Now that the planting, transplanting and containers are filled, it's time to sit back and enjoy our gardens with a little weekly maintenance like weeding and watering. Weeding can be a chore but if you don't stay on top of it, they will choke out your plants and steal the moisture from them. Because we can get sudden downpours with rain and wind this time of year, it is best to stake the delphiniums, lilies and other taller plants. Cut back catmint, mums and autumn joy sedum to promote bushier growth and repeat blooming throughout August. This time of year we can find mildew or mold on the leaves of some of our plants, such as black eyed susan or phlox. Spray with an organic fungicide and make sure you spray late in the day to avoid burning the plant. Roses- lots to talk about here. You want your roses to repeat flowering throughout the season. After the flower has finished blooming, cut back the flowering stems to 2-3 sets of leaves, and cut at an angle. You may also notice a new strong stem will appear at the base of the shrub. They can grow higher than the shrub, trim slightly to help maintain the shape. Make sure the roses are getting enough water. When newly planted they need about 1″ of water for the first 3-4 weeks, then continue soaking for every 2 weeks. Do not let them stand in water, the roots will rot. For fertilizing roses, there are many you can use. Organic/natural base Fertilizer is a granular fertilizer(5-5-5) that provides building blocks for growth and blooms. Bone Meal is a great way to promote healthy blooms. Fish/Kelp Fertilizer is my favorite, Neptune's Harvest is great and you can get it on line or any local nursery. Fish is a great source of nitrogen and kelp liquid helps add minerals. Epsom Salt-promotes activity of enzymes in the soil. Compost-adds nutrients and organic matter and improves soil life. I always add this at the beginning of the season when I trim all the dead of the shrub. You should feed roses once a month through the summer. Stop feeding in early autumn or 6 weeks before frost. Containers, keep the soil moist and I recommend feeding them once every 2 weeks for to encourage growth and constant color. Keep up with the deadheading too.Vegetable gardens-Well, I have fabulous news, thanks to my Dad and my husband who installed my nearly perfect garden fence. I finally have sunflowers growing in my vegetable garden because those pesky chipmunks are not able to get in. My garden has never looked better. Lots of treats already to be picked, kale, lettuce and rhubarb. Best thing to do this time of year while waiting for all the veggies to ripen is to keep up with the weeding, and fertilize your plants, along with watering of course. First thing in the morning is best. I use Neptune's Harvest fish and seaweed fertilizer which is great. Smells like a bit like low tide when spreading but worth it!
July is a great time to visit other gardens too, you often get inspired to try different plants just by seeing them in another garden. I have a problem, once I see it, I need to have it. As hard as it is, try and hold off until September to installing any new plants in the garden, the ground is so dry and the weather is so warm and if there is lack of water the plant will struggle. My suggestion, get a garden journal, make your notes and make it your fall project.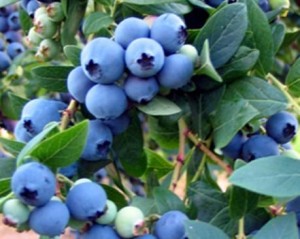 Blueberry picking, one of my favorite activities to do in July. You may grow them in your backyard or visit local farms and pick them yourself, but what a treat it is. I think they should weigh me before and after since I eat almost an entire bush! Tree Berry Farm in Scituate is once of my favorites. Blueberry Hill in West Barnstable and Ward's Berry Farm in Sharon are open now for picking. Best to call ahead to make sure they are not closed for ripening. I have a wonderful Blueberry Crisp recipe: Classic Blueberry Crisp: 4 C blueberries, 1/3 C sugar, 1/3 C brown sugar, 3/4 C rolled oats, 4 Tlbs butter softened, 1 Tlbs, grated lemon rind, 1/3 C flour, 1/2 tsp. cinanamon. Preheat oven to 375, arrange blueberries in a deep greased baking dish. Sprinkle with lemon rind and sugar. In a separate bowl, combine flour, sugar, brown sugar, cinnamon and rolled oats. Cut in butter until mixture is blended and crumbly. Spread mixture over berries and bake 40-45 minutes, Enjoy!