"Life Begins the day one plants a garden" Chinese Proverb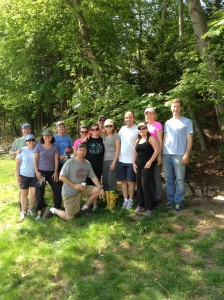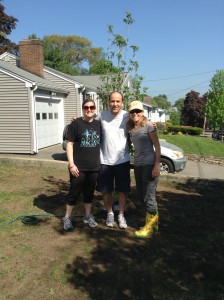 What a spectacular day to be out in the yard planting beautiful containers, planting grass and a gorgeous Kousa Dogwood tree for an amazing man. The day could not of more picture perfect with all the volunteers armed with shovels, rakes, mulch, pruners and big smiles. This is not just any cancer garden for me, this one is extra special. The patient this time happens to be one of my best friends husband. We have been friends since we were 13 years old. I put out the email to my dearest friends and within an hour I had over 12 volunteers. The ones that weren't able to make it donated money towards plant materials. After just a couple of hours we were all amazed at how much we had accomplished. Now all they have to do is turn on the water!
I would like to send a special thanks to all the donations I received towards this project. Sergio Pungitore from Pungitore Landscaping donated all the loam for the new front yard. The Findley families, and the volunteers donated all the containers and flowers that were planted in them. Seoane's Landscaping donated the beautiful Kousa Dogwood tree.
When I plant a garden with all volunteers, that garden is even more meaningful. Most of the volunteers are not seasoned gardeners, but that doesn't stop them, they are there for one reason, to make this yard/garden pretty for the individual who has just had surgery or is undergoing treatments. Gardening may be my greatest passion in life, but helping others enjoy gardening is even a bigger passion.
Vegetable Gardens:

 Memorial Day is next weekend. Time to get those vegetable gardens ready for planting, if you haven't already. It is best to get in there and till your soil, amend it, add your compost and remove the rocks that seem to grow back every year, before you plant. I recommend making your list ahead of time too before you head off to the nursery or farm, or seed planting. If you are like me you come home with lots of extra plants. When I am there picking out my plants, I always think my garden is bigger than it is! If you weren't able to get over to Holly Hill Farm in Cohasset this past weekend, no worries, they still have lots of plants and will be open next weekend, May 23rd and 24th from 10am-4pm. Also, lots of plants available at Farmers markets too. Local towns also host plant sales that you can get different varieties. I am once again trying artichoke plants. Last year I got beautiful foliage and no fruit, then tried my cold frame, only to have it buried in 5 ft of snow. So, this year I ordered 3 year old bare root plants, and I must say am a bit nervous, I have not seen any type of green coming up from that area at all. But I am not giving up.
Containers: Get creative this summer with your containers. Try mixing herbs and perennials along with a few annuals in those containers and really make them POP!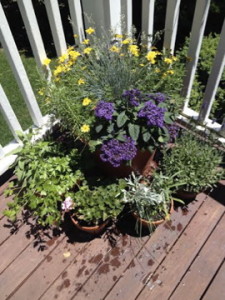 Stop by a yard sale, get an old wooden box or galvanized tub and use it as a planter. Just be sure to drill holes in the bottom and add stones for extra drainage. I recommend Neptune's Harvest Fish and Seaweed fertilizer every 2 weeks, it will really help your plants thrive.
Watering: Many of us have rain barrels, but they are still empty because of the lack of rain this spring. Very important to keep up with your watering when you plant anything new in the garden or a container. The soil is already dry from the lack of rain and you need to keep it moist for the roots to establish.
Weeding: As always, one of our least favorite gardening chores. But it is important to stay on top of the weeds, or they will choke out your plants. Try and go through the gardens once a week, early in the morning before it gets too hot, and it won't be as overwhelming.
Garden tours:
Beacon Hill Garden Tour-Thursday, May 21st from 9am-5pm. South End Garden Tour: Saturday, June 20th 10am-4pm On going: The Boston Public gardens, Boston and Arnold Arboretum in Jamaica Plain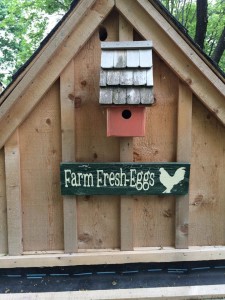 South Shore Science Center: This past weekend I was on the South Shore Science Centers Hen House Hop. When they first asked me if I would let people come and see my coops I thought, ok crazy chicken people like me, sure it will be great. Well, I never imagined over 75 people coming by and wanting to talk just about chickens, it was fabulous! The best part, all the money raised is going towards a children's garden at the Science Center. If you haven't been there before, I will tell you it is a great place, for kids and adults. I want to personally thank all the volunteers that made this day a huge success!