"God made rainy days so gardeners could get their housework done."- Unknown
I don't know if the same quote applies for all this snow, especially for all of us that have had damage this winter, but we will be happy for a rainy day-maybe in July.
Snow=Poor Man's Fertilizer. Yes, it's true. Even as we look out our windows and still see many feet of snow, and signs of some damaged evergreens and trees, know that the snow is good for our soil. It feeds Nitrogen into the soil at a slower rate. It also acts as an insulator for our hydrangeas, roses, evergreens and ground covers from winter damage. Just think once it melts, we will have lots of things ready to bloom in our gardens, and no it won't be in July, I promise. As we look out our windows now and all we see in white, dirty white and brown, we all long for color. Thank goodness for all the seed catalogs this year!
Since we have had a lot of time to plan for our gardens, think about next winter (just for a minute)and what you would like to see blooming in February and early March next year. 

Consider winter flowering Witch Hazel or Chinese Witch Hazel. This is a beautiful bright yellow that will bloom even in the snow. It can withstand temperatures 20-30 degrees below freezing too.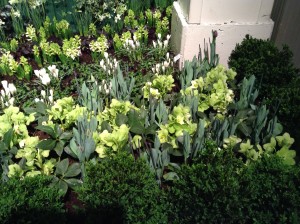 Isn't this a gorgeous photo? Another idea to plan for next spring for when the snow melts. This was at the Boston Flower and Garden Show this week, and you too can have this in your yard! There is a boxwood hedge, with Hellebores, tulips, hyacinths, and crocus. Gorgeous! In the fall you need to plant the bulbs, tulips, hyacinths, and crocuses, but in the spring you can plant hellebores. Hellebores are one of my favorite perennials and are a welcomed sight when they bloom in late winter to early spring, sometimes when the ground is still covered with snow. The flower itself resembles a rose, which again, another favorite of mine. The hellebore plant also has an attractive green foliage in the garden when not in bloom. Great thing about hellebores, the deer do not like them and yes, those deer will be frequenting your backyard and mine after this snow melts because they are hungry.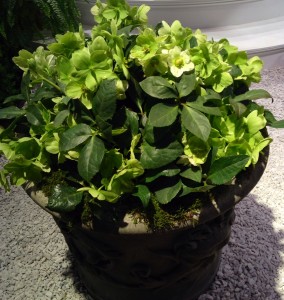 Hellebores are poisonous so be sure to keep children and pets away from them. I use hellebores in my spring containers with pansies and it just gives added color and interest. When it is time to change the container to summer flowers, I just plant the hellebore in my garden. Hellebores need only a few hours of dappled sunlight to grow, and grow very well in shady gardens. Plant hellebores in your garden under a tree or through a woodland shade garden.
Events this month: You still have time to get over to the Boston Flower and Garden Show at the Seaport World Trade Center in Boston, it ends on Sunday, March 15th(the Ides of March). I think everyone in New England needs to smell mulch right now and to remind us that it won't be long and we will all be putting it down in our gardens. If you are unable to attend this year, Kennedy's Country Gardens in Scituate is hosting an event, Gardening Green Expo organized by the  North and South Watershed Association.  It is the 3rd annual expo featuring all things organic and natural for your yard Saturday, March 28 10 – 3 Sunday, March 29 11-3. They will have speakers lecturing on Mason Bees and Fireflies, Edible Landscaping, a seed planting workshop and all about goats and goat sampling cheeses! Did someone say goats?????
Winter Damage: I have had so many emails and calls lately asking what homeowners should do about removing snow and ice on our evergreens and trees. The problem we all have right now is that the snow is no longer light and fluffy and has turned to a layer of ice. You don't want to remove any ice, your branches will likely break. Once the snow is melted, all of our shrubs and trees will need some pruning, but best to do that in the spring. If your shrub is exposed, and the snow is somewhat fluffy you can gently sweep with a broom or your hand in an upward motion allowing it to loosen and fall. Don't sweep downward, you might break an already bent or weakened branch. Spring is going to come and you can assess all the damage then. Don't be in a rush to discard plants that show major damage, it is amazing what a plant can do to rejuvenate itself in just one growing season.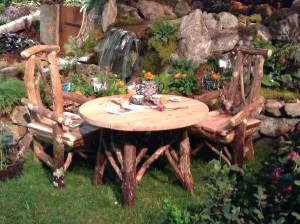 I leave you with this last photo from the Boston Flower and Garden Show. The volunteers had a hard time holding me back when I attempted to sit and sip my iced tea at this beautiful table. Look at it, it is just so inviting! It won't be long now fellow gardeners and we will all be sitting here(My husbands next project)relaxing, sipping our iced tea and enjoying the smell of all of the gorgeous flowers in our gardens. I have updated my website and under the tab Gardening Guide, I have added many " How To's" about gardening.