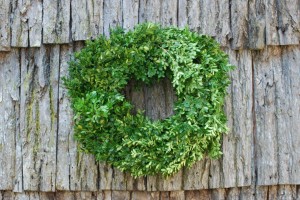 Here we are with the holidays rapidly approaching. Now that our gardens are put to bed, garden tools and patio furniture stored away, it's time to focus on holiday greens, inside and out. There are many evergreens in your own yard that you can trim and use for arrangements. Pine trees, hollies, juniper and if you are lucky enough to have winterberry(like gold this time of year) and blue spruce-get out and get clipping. I do not recommend trimming boxwood at this time, unless it is huge and overgrown. If you bring any if these indoors, remember to spritz them daily, they will dry out extremely fast with the heat, but outdoors in planters or window boxes they will thrive. There are so many gorgeous choices of boxwood trees, wreaths or amaryllis(still time to start these) or my favorite house plant, the Christmas cactus.
If you are looking for a fun, memorable family outing, consider going to a tree farm and  cut down a fresh tree for Christmas. Make sure you cut about 1/2″-1″ off the base before putting it in the stand and give it a vigorous shake before bringing it indoors, you never know who might be taking up residence in that tree. There are many tree farms in southern New Hampshire and  northern Massachusetts. Some I recommend and have been to are Houdes tree farm in Marlboro, Ellsworth tree farm in Northboro, and Treeberry farm in Scituate.
Once again I will be offering an assortment of holiday greens and custom made bows, you can click on the Holiday greens tab to see what is available. I will be donating 10% of the sales to the Dana Farber Jimmy Fund Clinic. This donation will help fund innovative cancer research and treatment programs for children and adults at the Dana Farber Cancer Institute. I am happy to be able to provide festive greens for family and friends along with donating to such a wonderful cause.  I will items available from Sunday, November 23rd through Sunday, December 7th. Send me an email to place your order and when you would like to take delivery.
On a separate note I have some exciting news to share with all of you. I finally got my cold frame! And my artichoke plants are happily in there with my herbs from the summer. Amazing what a little threat to Walpole woodworkers will do. Kudos to my husband and friend Mary who was replacing old windows.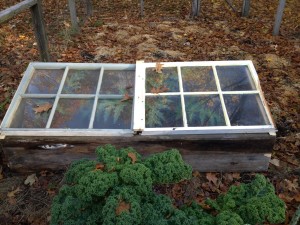 Festive Cranberry Salsa: 12 oz bag of fresh cranberries, in a saucepan with cold water, cover and bring to a boil until cranberries pop. Drain well. Add: 1/3 cup sugar, 1/3 cup of fresh lime juice, 2 garlic cloves, minced, 1/2 cup fresh cilantro, 1 small jalapeño pepper, seeded and chopped, 3 scallions, chopped. Mix well, season with salt and pepper, refrigerate for 30 minutes, serve with nacho chips. Enjoy and Happy Holidays!