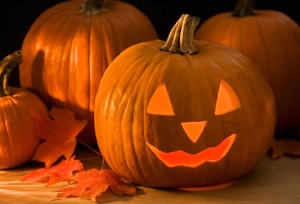 Pumpkins are a cultivar of the squash plant. Most of us tend to use them to carve Jack-o-Lanterns or to use decoratively throughout the fall plantings. I love pumpkins and they come in so  many shapes, colors and sizes. I was lucky enough this year to harvest 1 pumpkin that the wonderful wildlife was not able to find. I am proudly displaying it on my table, and will carve my traditional jack-o-lantern for Halloween. Halloween, also known as All Hallow's Eve or All Saint's Eve is a yearly celebration observed in a number of countries on October 31st. Who doesn't love Halloween? All the costumes, decorations,  trick or treating, and of course the CANDY CORN!!!
Flower Beds/Vegetable Gardens-Now is the time to put the gardens to bed, well this month anyhow. I have so many plants still blooming in my gardens, including the roses. Once the flowers turn yellow and look tired, cut them back and compost the foliage. If perennials have grown too large, now is time to divide or thin them out. Once the garden is all clean, keep a layer of leaves to protect them during the winter months. Do not fertilize perennial beds in the fall, if the weather gets warm again, they may begin to grow and will be killed back by cold weather. DO NOT CUT ROSES BACK-in the spring only! You cut them back in the spring to control size, remove dead or diseased branches and stimulate new growth. If you cut them back now, you run the risk of damaging the entire plant. Build a mound of soil and leaves around the base for winter protection. For the Vegetable gardens, it's a good time to apply old fashioned limestone, animal manure(I have plenty if anyone wants any!!) compost of seaweed so it has the chance to work it's way into the garden soil over the winter months. Pot your geraniums and bring them indoors along with herbs and enjoy them during the winter months.
Compost Bins/Piles-Fall is a perfect time to start a compost pile. Take your tired and dead vegetable plants, faded annual flowers, perennial foliage, leaves, pine needles and grass clippings. Do not put any crab grass plants in your compost pile or the seed will germinate in your gardens for next spring. All you need is a sunny location and an area to get water to keep the materials wet so they can break down faster. If you add kitchen scraps to your compost, you will want to keep it in a bin rather than an open area, this will invite all those unwanted animals for a visit.
Spring  flowering Bulbs-Now is the time to plant your bulbs that will come up in the spring after a long, cold winter. There are so many to choose from. Tulips, crocus, Hyacinths, daffodils are just a few. There are well over 10,000 different varieties. You want to plant bulbs in a soil that is well drained and rich in organic matter if you want them to re-bloom for several years. When planting always plant in groups about 9″ down, 3″ for the bulb and 6″ of soil. Apply a bulb fertilizer to the hole also before back filling with soil. Never use bone meal for bulbs or our unwanted critters will dig up all those pretty bulbs and feast on them. This is a great month to plant bulbs, you actually have until the ground freezes. You can buy them at local hardware stores, nurseries and even mail order companies. If you are planning on mass planting, I recommend mail order companies like Van Engelen or John Scheepers. Holiday Bulbs-During the holiday months it is so nice to have the amaryllis bulbs or paper whites blooming in our homes. You see them in the nurseries and catalogs and are just so beautiful! Go to your local hardware store and buy the kit now, usually under $10 for one bulb. Buy a decorative pot, heavy weighted( so when the stalk begins to grow, the weight of it will not tip the plant over) and some potting soil. Put them in the pot, or if you buy a large pot, put 2 or 3 together, there are many choices and colors, cover with the soil, water them and put them in a sunny window. I typically start these the end of October, first week of November so I can enjoy them during the entire month of December.
Pumpkin Dip-This is a wonderful dip that my dear friend Karen gave to me years ago, and it a great appetizer or desert for any festive fall occasion. 16 oz cream cheese (soft) 4 Cups of confectioners sugar, 30 oz can of pumpkin pie filling, 2 tsp. cinnamon, 1 tsp. ginger-Beat all ingredients, chill for 1 hour and serve with ginger snaps!