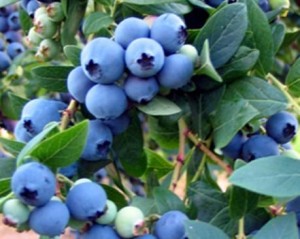 It's time to go berry picking! One of my favorite activities to do in July. I love berries, especially blueberries. You can grow them in your backyard or go to local farms and pick them yourself. I have 10 blueberry bushes and 4 raspberry bushes but unfortunately I did not net them before the birds and chipmunks feasted on them, so looks like I will be heading the the blueberry farm myself again this year. There is nothing like standing among blueberry bushes and popping them right into your mouth. Every year when I go, I can't help thinking of the children's book, "Blueberries for Sal" by Robert McCloskey. I even find myself saying outloud as I pick, "kerplunk, Kerplink!  Tree Berry Farm in Scituate, Blueberry Hill in West Barnstable and Ward's Berry Farm in Sharon, are open for picking right now. I have the old Jordan Marsh Blueberry recipe I will share with you.
Jordan Marsh Blueberry Muffins
1/2 C butter, 1 C sugar, cream until fluffy. Add 2 eggs, one at a time. Add 1/2 C milk and 1 tsp. vanilla. Mix in a separate bowl,  2 C flour, 3 tsp. baking powder, 1/2 tsp salt, add to wet mixture. mash 1/2 C blueberries and stir into batter by hand. Stir in remaining 2 C whole berries. Place high in greased muffin tins Sprinkle with sugar. Bake at 375 for 30 minutes. Cool for 30 more.
In the heat of the summer and with the limited watering use, we find ourselves all praying for some rain. Some of the perennials in our gardens can be cut back at this time to promote bushier growth and repeat blooming in August. Salvia, Catmint and perennial mums are just a few, cut them right back to where the flowers have faded, where the green leaves are and the plant will bloom again in August. Daylilies, I go through my gardens and cut the stalks back once they start to turn yellow/brown. Roses, lots to talk about here. You want your roses to repeat flowering throughout the season. After the flower has finished blooming, cut back the flowering stems to 2-3 sets of leaves, and cut at an angle. You may also notice a new strong stem will appear at the base of the shrub. They can grow higher than the shrub, trim slightly to help maintain the shape. Make sure the roses are getting enough water. When newly planted they need about 1″ of water for the first 3-4 weeks, then continue soaking for every 2 weeks. Do not let them stand in water, the roots will rot. For fertilizing roses, there are many you can use. Organic/natural base Fertilizer is a granular fertilizer(5-5-5) that provides building blocks for growth and blooms. Bone Meal is a great way to promote healthy blooms. Fish/Kelp Fertilizer is my favorite, Neptune's Harvest is great and you can get it on line or any local nursery. Fish is a great source of nitrogen and kelp liquid helps add minerals.    Epsom Salt-promotes activity of enzymes in the soil. Compost-adds nutrients and organic matter and improves soil life. I always add this at the beginning of the season when I trim all the dead of the shrub. You should feed roses once a month through the summer. Stop feeding in early autumn or 6 weeks before frost.
July is also a great month to take notes and see what needs to be relocated or even removed from the garden. You may find a shrub or plant is getting too much sun or not enough for the plant which is in that location.Do not transplant it now, you should wait until the fall.  Also, keep up with the weeding. Once a week, head out early before it gets too warm and get those pesky weeds that can choke out your beautiful plants. I find myself peering over fences and walls in neighborhoods, looking at homeowners gardens, curious to see what they have planted. I actually stopped one day in Norwell and introduced myself to the homeowner and invited myself(well he did) into his garden. We fellow gardeners always have time to talk about plants(kind of like chicken owners too). There are many beautiful gardens that are open to the public and just a short drive away if you are looking for a field trip and are too shy to barge into someones yard. Tower Hill Botanical Gardens in Boylston, Berkshire Botanical gardens in Stockbridge, Arnold Arboretum in Jamaica Plain, Garden in the Woods in Framingham, Wyman Estate and Greenhouses in Waltham and lastly, the Boston Public Gardens.