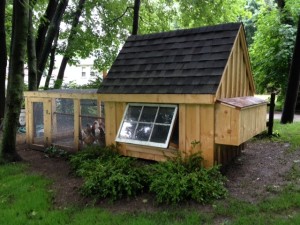 Here it is, the new coop. My husband and my Dad worked very hard on this coop, and isn't it gorgeous? I think that having 11 chickens in the basement had something to do with it. Lots to report on the new girls. First, Violet was getting much bigger than the other girls, and then her comb started growing larger, then the crowing came. Yup, Violet, aka Vinny. We thought about keeping Vinny, why not, help me with protecting the girls, keep them in line, and baby chicks in the future. Well, it was in Vinny's best interest to be relocated. I found a friend who was looking for a rooster and it worked out perfectly, and I got word that Vinny is enjoying his new home, and I must admit, the girls don't seem to miss him either. So, 10 hens growing quickly and adapting to their new pad. We have had a couple of visitors too, coyotes. They can come and say hello, but better not think about sticking around.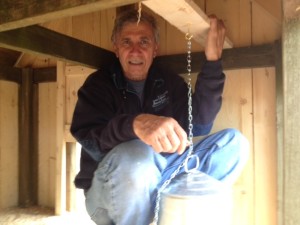 Here is my Dad hanging the feeder in the new coop, cozy in there isn't it?
Not sure if you caught the last issue of South Shore living magazine, but they featured me with my chickens! What a surprise it was when I got the call. I had a wonderful visit with a journalist from the magazine, and told her all about raising chickens. She was lovely, and you know I think I had her almost convinced about getting some chickens herself! Who wouldn't want farm fresh eggs daily and manure! I was so proud of the girls that day, they looked great for their photo shoot.
The Photographer was amazingly patient too, and I know she loved the chickens too! The journalist also interviewed dear friends of mine, and unfortunately got some horrific news yesterday. Their neighbors dog got into their coop and killed 13 of their 14 chickens, just terrible. They are just devastated, as you can imagine. You know it's one thing to loose one to a predator, but your neighbors dog and your entire flock! My heart just goes out to them. That's the thing, you have to be aware at all times what can get into your yard or even the coop. I guess that is part of being a backyard chicken farmer.