Every year I attempt to grow an olive tree, I must admit every year I fail miserably. Because of the zone we live in, we need to treat these plants as annuals or bring them indoors for the winter.  I order one in the spring from a nursery in California on line, it ships, I plant it, move it outside all summer long, does fabulous, then bring it indoors in the fall, and loose every leaf. I  would love to tell you that this one in the photo is one that I have been growing for about 15 years, but I think St. Peter's Basilica in the back round will give me away! I recently visited Rome and everywhere around the city and in Vatican City are olive trees in containers! I just think they are such a lovely tree, not only do they produce olives(which I can eat by the pound)but the silvery, green foliage is just so lovely, and the trunk of the tree is beautiful. So, once again I will attempt my growing of the olive tree.(If I only had a green house!) This is the same for Fig trees, which fortunately I have had great success in growing in containers. The trick is with the fig trees, late in the fall you dig a big trench in your vegetable garden and bury the entire tree, in April you dig it up and re-pot it in a container. Last year I wrapped the trees in burlap and let them go dormant in my barn(which isn't heated) and in April re-potted them and they are  flourishing with lots of fig buds. Blueberry bushes are great in containers also. You don't have to bury the entire plant, just pot it in the ground for the winter. I recommend netting them in the spring because the birds and pesky chipmunks enjoy the fruit too.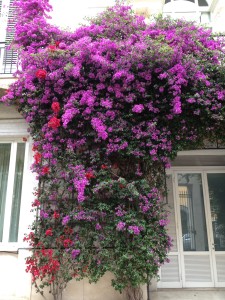 Bougainvillea, isn't this gorgeous! Again, growing everywhere in Rome. You can buy this plant at any nursery(usually a little expensive, but worth it in my opinion) and plant it in a container with an obelisk for it to grow on. Again, if you have a green house, no problem for the winter months, but you can bring it indoors for the winter and place it in a sunny window and wish for the best. I have done this with Gardenia trees and Jasmine, my only issue has been the indoor sporting events that occur in the room I place these beautiful plantings in, end up being crushed or destroyed.
I recommend trying something different in your containers this year, whether it is a fruit tree, herb garden or even a vegetable planter to make a focal point on your patio or deck. After surviving this long, cold winter you deserve it!(That's what I tell myself). I recommend giving your container plantings fertilizer every two weeks also. I use Neptune's Harvest fish and seaweed fertilizer(I also use this in my vegetable garden). Your plants will thrive from this.
Plant Sales: Lots of local plant sales happening in surrounding communities. Great way to add mature perennials to your gardens. The garden club of Hingham is hosting one in Hingham Center next Sunday, June 1st. Holly Hill farm in Cohasset is currently having a plant sale and offer plantings during the season as well.The Scituate Garden club is offering their plant sale at the Wildflower garden at the Mann Farm house on the corner of Stockbridge Road and Greenfield lane in Scituate on Saturday, May 31st. I love going to plant sales, you meet fellow gardeners and can chat about what favorite plants you have or want to try, and then load up your car and try to figure out where to put it all when you get home!
Maintenance of your gardens: With summer gardening, it is imperative that you keep up with your weeding. I suggest that once a week, early Sunday morning, grab your coffee or tea and head outdoors. Once every garden has been planted and mulched, this is a chore for all of us. Because of the busy schedules and heat we typically get in the summer months, the weeds start to take over, but get on a routine and you can keep it in control. With Vegetable gardens, I strongly recommend salt marsh hay after planting. Kennedy's country gardens in Scituate is the only place I have found this and have been using it for almost 20 years. Not only does it keep the weeds down, it also retains the water for the plants. It looks a little messy when the plants are small, but when the plants fill in the garden you will be pleased. In the fall I turn it over in the garden and let the nutrients soak into the soil all winter long, acts as a great compost too.