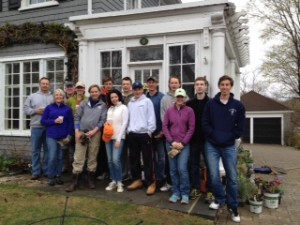 For many years now I get a group of volunteers together, whether it be friends, acquaintances or even fellow gardeners who have the same agenda as I do; let's get in there, get to work and make the garden come alive for the individual and their family. Well on Sunday, April 27th, it was no difference. On a cloudy, raw day this wonderful group of volunteers came with wheel barrels, rakes, shovels and trowels and helped transformed this yard back to it's original beauty. Most of these volunteers are dear friends of the family and were quick to respond when the email first went out. When I first learned about this project, I was thrilled that so many of their friends wanted to be there and help, I don't think any of them had any idea of how many yards of loam I had delivered! There was not one complaint, just another asking for an additional rake. This project was especially dear to me because I have known this family for over 15 years, and they are truly such wonderful and giving people. Now all they have to do is keep up with the watering and cut some roses to bring indoors and enjoy their beauty.
I would like to acknowledge the donations I received for this project. Paul Iaria from T.A. Iaria donated the huge truckload of loam. Sergio Pungitore donated the hydro-seed for the entire side and back yard where all the loam was spread. The plant materials and mulch were all donations from the volunteers. I am very thankful for the continued support I receive when reaching out for donations.
Gardening is my greatest passion in life, planning and planting a garden for individuals is even a bigger passion. But when planting a garden or rebuilding an existing garden for an individual who is undergoing treatments, this type of gardening gives me even a greater pleasure.