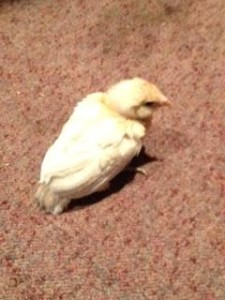 Ok, sorry for the delay, but I have been busy tending to all these chickens. I received my shipment of new chicks on March 5th, the Brockton Post Office called me at 6pm to tell me the Livestock was there. I jumped in the car and raced over there. Unfortunately, when I opened the box, 4 of the chicks did not make the journey. So, I have 11 new chicks under the heat lamp in my basement.
Yes, they are all named, flowers all of them, except for one special chic I name Ida, after my Nana, the most wonderful woman I have ever known. So, here in my basement they will stay until further notice.
Another recent event with the older girls that happened this past week, was that Buttercup was in distress! Yes, I went out to the coop to check on the girls and she was just sitting on the floor, opening her beak multiple times, but nothing was coming out. I picked her up, took her to the water and had her drink, still nothing. I noticed her comb was pinkish/grey and was closing her eye when opening her beak. My goodness, she was not getting the proper air exchange! So, I picked her up, gave her multiple back thrusts and blows, massaged her neck and repeated this multiple times. I then brought her back over to the water and she began to drink on her own. I left her with the girls(I felt terrible leaving but I had an appointment to get to), when I returned about 3 hours later, she was perky, and yes her comb was back to bright red! I must confess, I gave the girls some oyster shells the day before and lettuce greens, so my only thought is that she didn't properly digest it and something got stuck. Of course when I called my husband and begged him to go home at lunch and check on her, I did get a sigh, but he reassured me that he would and he did. I know deep down inside he too has a love for the girls. Later that day when I went into the coop, there was Buttercup sitting on an egg for me.