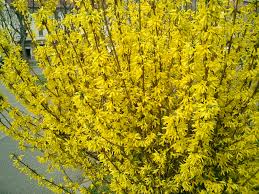 Spring Check List. It is time to get out in the yard and get busy, FINALLY!! I personally thought this day would never come, as did many of you. Lots to do. Here is a checklist I typically use for my own garden/yard.
Time to remove all the winter protection from our flower beds. Rake all those heavy wet leaves off so those little heads of the crocuses and daffodils and reach toward that spring sunshine. As a rule of thumb, when you see the Forsynthia start to bud and bloom, it is time to cut back the roses and butterfly bushes. Along with cleaning the entire yard. Roses-time to uncover all those leaves and prune them back, clean the dead, weak and broken branches on the bush, you want to cut the plant back to 18-24″ from the ground. Remove all suckers from the base of the plant. You can spray Wilt-Stop to help with the winds. Climbing Roses-clean and cut back and remove all the winter damage. Remove all the suckers that develop below the graft, this will help the plant produce more flowers and eliminate excess foliage. Fertilize with Dr. Earth rose food. Any rose bushes that are in containers, bring out from your barn or shed. Hydrangeas-uncover all winter protection, do not prune now, but remove damage. Pruning should be done when the buds begin to swell and are visible. Add aluminum sulfate to increase the color blue. Birdbaths/containers-clean out all containers, window boxes and planters, recondition the soil or add new soul and prepare for spring plantings. Rain Barrel-time to put in place for all the April showers. Perennial beds-After raking out your perennial beds, time to fertilize all those precious plants and wake them up from their winters nap. I fertilize my perennials with 10-10-10 and of course chicken manure(aged). I sprinkle this around the base of the plants, not on the leaves for it will burn. I usually watch the weather and do it right before we are due to get some rain. I also fertilize my shrubs with Holly tone fertilizer, again before the rain. A lot of shrubs and trees have winter damage this year, many of us have lost plants due to this harsh winter. A common question I seem to get is the orange tone to the boxwoods, this is normal. If you have dead branches or tips, get in there with a hand pruner and prune them out. But if you see the orange tinge-not too worry, make sure you give them some Holly tone and usually by the end of April they are back to looking how they should be.
Apple Trees/Spraying Program-I came across this great article done at UMass Amherst for when to spray your apple trees. Buy 2 red plastic apples with stems on them, tie a string between them, then place a thin layer of vaseline on the apples. Hang from your tree, this acts as an insect monitor. When the insects arrive, they are drawn to the apples and get stuck, this means it is time to start spraying! You want to spray before the flowers open. Use a Hi-Yield lime sulfur to kill off disease spores that have wintered over on the tree. Apply Bonide All Seasons Oil to kill over wintering insect eggs on the tree, you can apply this in the spring and fall. Use a fruit tree spray every other week to maintain insect invasion.
Grapes-Now is the time to get out there and prune back your grape vines. You want to do this before the buds appear. You want to cut them them back to the main cane or trunk. You need to cut the old wood, and the canes that are small and weak. Also, add lime or a pile of nice compost around the main trunk of the vine.
Early Plant Sale-Holly Hill Farm in Cohasset is having a plant sale on April 26th from 10-4. You can get lettuce, kales, spinach, broccoli, snap peas and many different types of herbs. The vegetable plant sale is May 17/18 and 24/25. The Farm stand will be also open with full offerings on May 17th.
Pansies-In the next couple of weeks we will be seeing pansies, thank goodness, we all need some color! Pansies are a great, cool weather annual flower, that are delicate but hardy. I think after this past winter we will be noticing pansies everywhere. Avoid buying plants that are full of open blooms because they will be stressed to near exhaustion from working so hard in such a small pot. Pansies like full sun, loose rich soil and watered regularly. Deadhead plants once the flower has passed and it will promote future blooms. Use pansies in containers, window boxes in your rock gardens, anywhere you want that burst of color.
Ocean State Job Lot-FYI if you have an Ocean State Job lot near by, worth taking the trip. They have a nice selection of terra cotta pots, in all different shapes and sizes. And a great deal on Holly tone Fertilizer and Rose tone Fertilizer along with many others and Bayer brand products. Some great garden trellis too.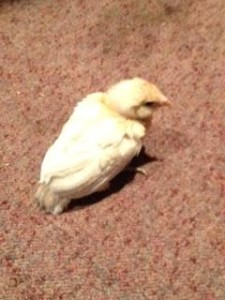 Ok, sorry for the delay, but I have been busy tending to all these chickens. I received my shipment of new chicks on March 5th, the Brockton Post Office called me at 6pm to tell me the Livestock was there. I jumped in the car and raced over there. Unfortunately, when I opened the box, 4 of the chicks did not make the journey. So, I have 11 new chicks under the heat lamp in my basement.
Yes, they are all named, flowers all of them, except for one special chic I name Ida, after my Nana, the most wonderful woman I have ever known. So, here in my basement they will stay until further notice.
Another recent event with the older girls that happened this past week, was that Buttercup was in distress! Yes, I went out to the coop to check on the girls and she was just sitting on the floor, opening her beak multiple times, but nothing was coming out. I picked her up, took her to the water and had her drink, still nothing. I noticed her comb was pinkish/grey and was closing her eye when opening her beak. My goodness, she was not getting the proper air exchange! So, I picked her up, gave her multiple back thrusts and blows, massaged her neck and repeated this multiple times. I then brought her back over to the water and she began to drink on her own. I left her with the girls(I felt terrible leaving but I had an appointment to get to), when I returned about 3 hours later, she was perky, and yes her comb was back to bright red! I must confess, I gave the girls some oyster shells the day before and lettuce greens, so my only thought is that she didn't properly digest it and something got stuck. Of course when I called my husband and begged him to go home at lunch and check on her, I did get a sigh, but he reassured me that he would and he did. I know deep down inside he too has a love for the girls. Later that day when I went into the coop, there was Buttercup sitting on an egg for me.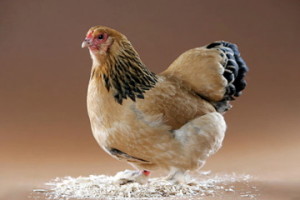 Isn't this a beautiful chicken? It's called a Buff Braham, and I ordered 2 of these along with 13 other chickens! Yes, it is that time of year. Decided I needed a few more and a few more different breeds.
My shipment will arrive via the postal service between March 4-6th. I am giddy and can't wait for their arrival. Hopefully they will all have a safe journey from Ohio, no worries I will let you all know!