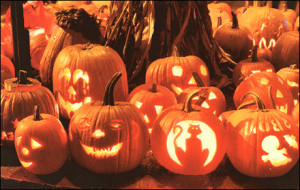 It's that time of year again when we need to put those beautiful gardens to bed, my how it comes so quickly. Lots to do in the garden this time of year! Let's start with the flower and garden beds:
Clean out all the annuals-any plant that isn't going to come back next year. You need to pull the plant out by the roots and dispose of it, once they stop producing flowers, it's time for them to go.
Cut back perennials-I usually wait until we have a frost. If you cut back the plant too early, you can encourage new growth that could be damaged with the frost. Any plants that were diseased or had a pest, dispose of the plant and do not compost it! Many herbs and veggies will come back after a year, parsley is a biennial and will come back, so cut them down to about 2″ above soil level once they are completely gone and no longer producing visible leaves. Rosemary is a wonderful herb that you can put in a pot and bring indoors and enjoy over the winter. Basil, time to make lots of pesto! (recipe to follow) Prune your raspberry bushes back, leaving the 6 of the strongest brown canes for every foot of your row, cover the strawberries with hay(or the salt marsh hay you used during the summer). Roses-remove any dead or diseased cane, do not cut the entire rose bush back, we do this in the spring, after the first frost, mulch rose plants with compost or leaves at the base. Carefully pull down long canes or climbing tea roses and lay flat on the ground and cover with leaf mulch. Don't Prune woody plants, trees of shrubs until after they are dormant. Turn your soil in the gardens, it helps eliminate some pest problems next spring. Any grubs or eggs form undesirable insects will be broken up and brought to the surface and feed the birds this fall.
Compost all disease free materials. Use all if the plant materials from this years garden to help nourish next years garden, add raked leaves to the compost pile and of course chicken manure! After Halloween I throw my pumpkins in the chicken coop and what is left over I add to my compost pile. You may want to cover your compost pile if you don't have a lid for the winter, this is when those hungry animals tend to venture into your yard and can have tasty treats over the winter. If you are like me, I have every known wildlife showing up in my back yard(I think they like chickens) but don't want to encourage them to stay.
Leaves/Grass-Lots of questions about grass and leaves this time of year. First, fall is the best time to plant grass seed. Falls lower temperatures, warm soil, sunshine and increased rainfall(still waiting)all add up to excellent conditions for growing grass. Leaves-shred leaves with your mower to height of 3″ and removing the bag. It is best to shred when you can still see some of the grass peeking through. Begin outside of the lawn and shoot the leaves towards the middle of the yard. Finely shredded leaves filter down through the grass and decompose by next spring. You don't want to leave a thick pile of leaves on your grass because winter rains and snow turn fluffy layers of leaves into dense, soggy mats that can kill your grass by denying it oxygen and encouraging disease. It blocks out sunlight and reduces air circulation. That being said, you have to do this multiple times during the season. Nice to get out there and breathe in all that fresh air! Use leaves on your garden beds, under trees and shrubs-especially if you have new plantings. If we have a winter without snow(which acts as blanket for our plants) and we get freezing temps and high winds, your plants and shrubs will be susceptible to winter burn and damage. Best to keep the garden beds and foundation plantings looking a little messy through the winter, the pay off in the spring is worth it.
Winter storage: Empty out all the outdoor containers, keep them from cracking and store upside down. Hang a bucket in the shed or garage on a hook and put all your nozzles and sprinklers in it. Put hoses away before they freeze. Put all your tools away, clean them off before storing them. Take in all garden ornaments and outdoor seating(except for the ones for around the backyard rinks!).
Fall Festivals and Pumpkin Festivals:
Wellfleet Oyster Fest-10/19-10/20 2 days of street parties celebrating with famous oysters, clams and shellfishing. There are cooking demonstrations, tasting seminars, book talks and oyster grant tours.
Keene Pumpkin Festival: Keene, N.H. 10/19 Noon-8:30pm Families enjoy special activities for children, costume parade, seed spitting and pie eating contests, live music, face painting and illumination of 30,000 pumpkins
Camp Sunshine Pumpkin Festival: 10/26 Freeport, Maine 12-8pm
Camp Sunshine is a year round retreat, which provides support, joy and hope to children with life threatening illnesses and their families. The program is free of charge to all families. On 10/26 LL Bean in Freeport, Maine will host its annual Pumpkin festival for Camp Sunshine. There is pumpkin carving, face painting, gourd bowling and the lighting of over 6,000 jack-o-lanterns. It is a wonderful event, and you can even donate a pumpkin by going to their website campsunshine.org.
Pesto: This is a basic pesto recipe which you can prepare batches of it and freeze for over the winter. 4 Cups of basil, 1/2 C olive oil, 2 cloves of garlic, 6 sprigs of parsley, salt and pepper to taste, 1/4 C pine nuts of walnuts, 1/2 C fresh-grated Romano or Parmesan cheese. Place basil in a blender, add oil, garlic, parsley, salt and pepper, and nuts, blend well until finely chopped. Stir in Romano or Parmesan cheese. Makes about 2 Cups, Enjoy!