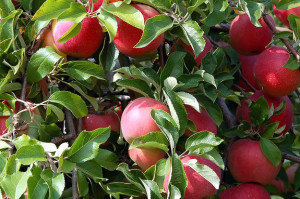 Can you believe it is that time already, busy season ahead of us folks! Lots to do. First, lets talk about Apple picking- it is one of my favorite fall activities to do with my family and friends. You can plan a picnic, toss the football around and just eat apples all day long! Some of the farms have hayrides, pumpkin patches and corn mazes. Then you bring a bushel home and make apple crisp, pie, muffins, it's endless what we can do with those apples. For those of you with a cider press(on my list of items I want to purchase) any spoiled apples are not wasted with a cider press. If you are thinking of buying one, Pleasant Hill Grain is an online store that carries a variety of them. Area farms post their hours and selection of apples available at different times of the month, here are some orchids that I have picked apples at and have been happy with the selection:
Honey Pot Hill Orchids-Stow, MA          Tougas Farm-Northboro, MA            C.N. Smith Farm-East Bridgewater         Russel orchards-Ipswitch, MA
Transplanting: September is a great time to divide, share with friends or just move plants to another location in you garden. Over the summer you were able to look at the garden and see which plants struggled in certain areas and which plants thrived.  If the plant is a perennial and is withered a bit from the extreme summer heat and flowers have passed, then you can cut back the plant and give it plenty of water in its new location. If it is a shrub, such as a hydrangea, make sure you water it immediately after planting and again every day, even twice a day for a week, then you can gradually reduce watering as the plant adjusts to its new location. I don't recommend cutting your entire garden back yet, there is still a lot of flowers and shrubs blooming right through to October, enjoy them a bit longer. As far as your vegetable gardens, the tomatoes, basil, eggplants, green beans are still producing, so enjoy that harvest! At the end of September you can dig up your basil, chives, marjoram, oregano and parsley. Put them in a decorative pot and grow inside as a house plant, keep it in a cool sunny spot.
Lots of Nurseries will start having sales, they want to clear stock from their inventory for winter. It is a great time to stock up, my problem, I can't pass up a bargain and come home with a carload, even if I don't have the room.
Mums: Ok, so your window boxes and urns are looking withered and tired from the beating sun, and you are dying to spruce them up with mums, cabbage, fountain grass, gourds and pumpkins. All of the garden centers are loading up with all those beautiful fall flowers. Remember when choosing mums, you want tight compact plants, flowers that are unopened. You need at least a half day of sun for a good bloom on the plant. Purple fountain grass which you also see now is a beautiful accent plant, but remember it is an annual and will not come back next year.
Bulb Planting: After a long winter like last year there was nothing better than seeing those beautiful crocuses poking their heads out early last spring, what a beautiful sight! Time to start thinking of bulbs, which kind you would like to plant and even ordering them. Tulips, Crocus, Hyacinths, daffodils and even Allium globemaster are just a few to consider. I usually order in bulk and have been very happy with Van Engelen bulbs and John Scheepers, both have on line stores. You can also go to local nurseries or even hardware stores. If purchasing bulbs from hardware stores or nurseries remember to choose healthy bulbs, avoid bulbs that are dry, withered, spongy or moldy. The larger the bulb, more flower in the spring. You want a sunny location, usually anywhere in the spring before the trees leaf out. Woodland bulbs such as: anemone, jack in the pulpit, snow drops-prefer more shade. When planting the bulb, you want point side up. Wait until weather is cool and before the ground freezes. I usually plant at the end of October, early November. You want to use a bulb fertilizer, I don't recommend bone meal, animals like to eat that. Most rodents don't like daffodils. You can either sprinkle red pepper in the planting hole or use moth balls on top of the soil after planting. Plant the bulbs in clumps, dig a large hole, put several bulbs in, sprinkle with the bulb fertilizer, and fill in with original soil. Make sure you mark each area so you aren't planting in the same spot. Water thoroughly. In the spring after flowering, cut back the flower stalks to ground level. Resist to cut when stalks are still green, it can affect the blooms for the following spring.
Salsa: If you are like me right now and have so many tomatoes and can't eat them fast enough, I have my very own Salsa recipe that I am going to share with you. It's plain, not too hot, you can add additional jalapeno peppers to give it even a bigger kick, enjoy!
5-6 Plum tomatoes or 4-5 large vine ripe tomatoes, 1 medium yellow onion, 2 jalapenos, seeded, 1 large bunch of cilantro, juice of 1 lime, 2-3 Tlbs. of red wine vinegar, salt and pepper-(I have this great little handy chopper I use, you can also use a food processor too.) Chill for at least an hour.
I came across this quote the other day and can't agree more:
Gardening is the only unquestionably useful job-George Bernard Shaw