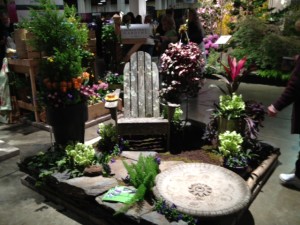 Here it is, the first day of spring and many of us have inches of snow on the ground. Fear not, for this is a great insulator for our plants and soon they will be poking their heads up any day now, and before you know it the Forsynthia will be in bloom.  Hopefully some of you were able to make it over to Boston's Flower show last week and see the beautiful displays and exhibits. What a wonderful surprise to see two different chicken coops(with actual chickens) in two different exhibits- bet you my chickens wish they were warm and cozy with all those fresh greens around them.
This photo here is one of my favorite exhibits, all you need is a cold glass of iced tea and a great book. Even if you have limited space in your yard, there is always a spot for containers.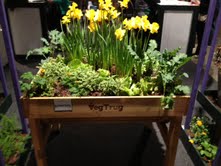 This photo shows you a great way to have a kitchen garden right on your patio or deck. Gardeners Supply Company offers this fabulous piece and had it on display at the show. For all of you with lower back pain and bad knees, this is perfect! You can plant vegetables, herbs and even flowers, the planter is called VegTrug, it comes in two different sizes and colors.
As soon as this snow melts, I will once again go outside and pick up even more twigs that fell with this past storm. Even as I grumble under my breath about having to do this again, it allows me to walk throughout my yard and make mental notes on what is coming up, what needs to be pruned and what needs to me moved-and of course what new plants and trees I want to squeeze into my gardens.
Enjoy the first day of spring!!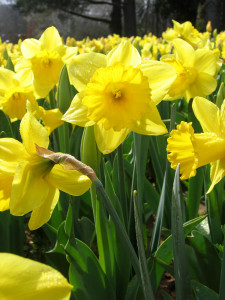 On Tuesday, March 18th-Friday March 22nd,
I will once again be volunteering  for the American Cancer Society
and selling daffodils to raise money for cancer research.
If you are interested in buying daffodils please email me at
lisa@zinniadesigns.net
Bunches are $10 and potted plants(which can be planted in the garden for next spring) are $15
Thank you and think spring!!