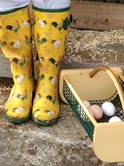 Here they are, my chicken boots. People always ask me if I really do have a pair and I do, actually it's my second pair. I used to wear them as rain boots too, but my 15 year old son asked me not to get out of the car when we went to the store, so now I wear them just in the coop. And believe me, when you have 19 chickens, you need a good solid boot.
Raising chickens has been one of the most rewarding experiences for me, right in my own backyard. Who would of thought a Hingham mom of 2, who never had a pet her entire life, would find so much pleasure tending to their daily needs. Not only do my hens provide me with farm fresh eggs daily, the manure they produce is like "liquid gold". This batch I ordered from McMurray hatchery, they were shipped via the US postal service the day after they hatched. On March 5th I received a call from the Brockton post office that my "livestock" had arrived. Adorable little chicks took up residence under a cozy heat lamp in my basement for 2 months, trust me when I tell you they grow quickly. I have 7 different varieties, and they are all named. I have an assortment of egg colors too, green, white, brown and a speckled brown. I do have one favorite hen, she is a white Americana named Petunia(she lays green eggs). She comes right to me as soon as I enter the coop every morning and stays by my side, she is kind of like the "mother hen"of the group, keeps the ladies in line too. In the summer months when I let them free range, Petunia is right there beside me out in the garden. It's best not to let them free range during the winter months, for I learned this the hard way and lost 2 chickens to hawks. Now they permanently perch in the trees on the outskirts of my yard waiting for "chicken dinner".
Raising chickens is also a conversation piece. When visiting a friend or neighbor that is hosting a party, I always bring a dozen of eggs( assorted colors of course) as a hostess gift. The host or hostess of the party is thrilled and so are the guests, it sparks a great conversation.
If you have ever thought of raising chickens, I highly recommend it, but have some advice. Do your homework first. Talk to other chicken owners(yes we are almost like a cult-we even have websites!) Decide how many you want, what breeds you would like and the housing arrangements. I have a wonderful "Chic Palace" that my husband converted from an old shed. He worked so hard and fast on this project!
Do you think the fact that I had 21 chickens living in my basement for 2 months had anything to do with it?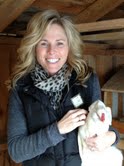 March is the time to get out all our seed packets that we ordered over the winter months.
If you are lucky enough to have a green house then this makes it even easier! But for those of you (like myself) that start your seeds under grow lights or by a sunny window,it is time to get all your supplies ready for planting. I recently read on organicgardeninfo.com about planting seeds by the moon calendar. It states that planting seeds by the moon will increase the speed and success rate of germination. I am quite curious about this technique and plan to try this. Now, if you log onto the website, with your seeds by your side, you can identify which level of germination your seeds are. For instance, I have Artichoke seeds(I am trying again this year) and they are considered long germination, meaning the seed takes between 8-21 days to germinate. So, I am to plant these seeds on or within 7 days of the full moon, which is March 27th. My pumpkin seeds are considered short germination, taking between 1-7 days to germinate and to start them on or within 7 days of the new moon. I will keep you all posted on my success.
This year my husband promises to build me a cold frame. Cold Frames shelter plants from ice, snow and winter winds and heat up the soil whenever the sun shines. The soil will warm up much faster than open ground and hardy vegetables can germinate in the 50 F range. Traditionally gardeners use cold frames to harden off seedings started indoors(something I am planning on doing this year and posting my results). You can also sow seeds in a cold frame and transplant into the garden. The seeds can be started 6 weeks earlier than in the outdoor garden. You want to place your cold frame on the south side of a garage or dwelling. Motherearthnews.com/garden-with-coldframe has an informative piece on cold frames and also illustrations how to construct one. You can also purchase one already made from Walpole Woodworkers or mainegarden.com.  Best of luck with your seed planting and feel free to email me with any thoughts or questions.

Hello Fellow Gardeners!
Well, our furry friend Punxsutawney Phil lead us to believe that winter would be over! I don't think I will be very welcoming to his furry little relatives this spring when burrowing into my gardens.
The good news is, the snow does act as an insulator for our plant materials, the bad news-last weeks blizzard with heavy wet snow did damage to alot of our ornamental trees and shrubs. The best advice I have is to leave them alone, do not attempt to go out and brush the snow from the branches. Let our dear friend Mother nature do that. By allowing the snow to melt from the branches and shrubs that are embedded in the snow on its own helps reduce future breakage of the plant. Believe me when I tell you I have to hold myself back from picking my severely bent Limelight Hydrangea tree out of the snow and back to it's upright position.
And for those of you with chickens… If you are used to letting them free range, unless you shovel out an entire area for them, best to keep them in their pen or coop. Your worry about their feet getting frostbite or their combs. It does make cleaning the coop a daunting process.
I find myself devouring over the seed catalogs and gardening websites, making lists and editing my journal as I sit by the fire, so I guess its good to have some down time now, because soon enough we will be busy little bees. And speaking of bees, don't forget about the Rhode Island Flower show this week at the Rhode Island Convention Center-I can't wait to smell the flowers and mulch!